Mercedes' Nico Rosberg and Lewis Hamilton posted the fastest times of the second practice session for the 2013 Formula 1 Monaco Grand Prix. Rosberg's 1:14.759 was nearly 1.5s faster than his time from the morning. The German was fastest in that session as well, reinforcing Mercedes' rise in recent races.
Meanwhile, Ferrari driver Fernando Alonso remains hot on the heels of Rosberg. The Spaniard, a dominant winner of his home race at the Circuit de Cataluña two weeks ago, posted 1:15.196 to finish third on the timesheets. The two-time world champion improved from 1:16.282 in the morning but will be slightly concerned that Mercedes have pulled out about half-a-second in more performance over the two sessions.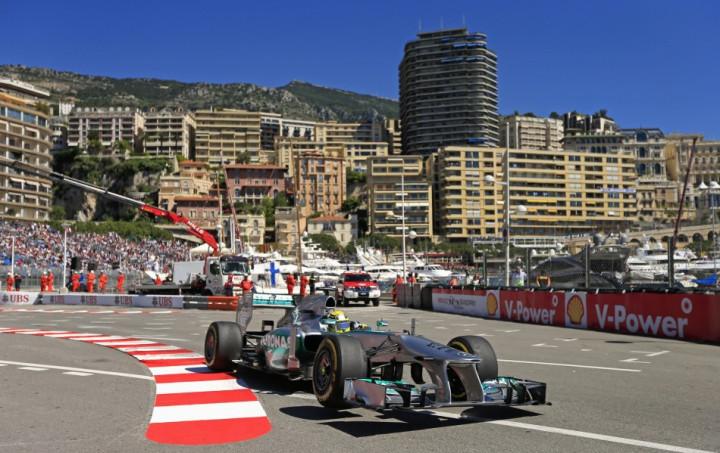 Alonso's team mate, Felipe Massa, produced a solid drive in the afternoon to take fourth with 1:15.278. The Brazilian was 0.519s off Rosberg's pace but as team principal Ross Brawn admitted before the Monaco race weekend, Mercedes do seem to struggle to re-create practice and qualifying pace on Sunday's race.
The tight and twisty Monte Carlo circuit could work in their favour though. With overtaking opportunities at a real premium and only one DRS zone (the pit straight) a good performance in qualifying is likely to be crucial.
Tyre wear could become a factor; the Pirellis have not won friends for durability. But this surface is far less abrasive than most and apart from performance under braking should not present too many problems.
If Mercedes qualify well then, they could be looking at a first race win of the season.
Meanwhile, further down the timesheets, defending champion Sebastian Vettel of Red Bull rounded off a disappointing Thursday with ninth place in the afternoon. The Milton Keynes outfit managed a best of seventh in the morning through Vettel's team mate, Mark Webber, and the Australian, a winner here in 2010 and 2012, was once again faster; he had 1:15.404 to Vettel's 1:16.014.
Red Flag for Romain Grosjean and Lotus-Renault
There was a red flag moment midway through the session, with Lotus-Renault's Romain Grosjean hitting the Armco barriers at Ste Devote, the first corner. Cars usually reach 280km/h in seventh gear before braking for the sharp right-hander.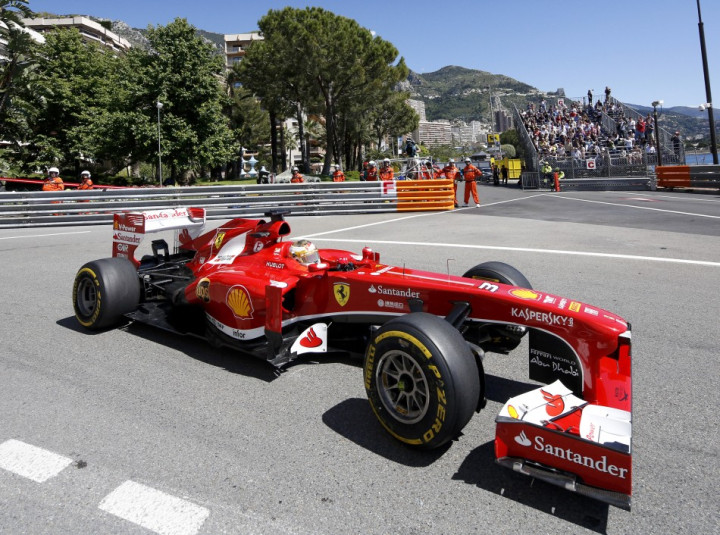 Fortunately, Grosjean emerged unhurt and is likely to continue racing this weekend. His session, though, ended there. However, the fact his time of 1:15.718 remained good enough for seventh will please the team.
Grosjean's team mate, Kimi Raikkonen, was sixth with 1:15.511.
The second session saw long (endurance) runs from all the teams, on both tyre options - soft and supersoft. And one point of particular note will be Rosberg's 27-lap stint on the supersoft compound. The race is 78 laps, meaning that Rosberg could potentially do a two-stopper tomorrow, handing him an excellent advantage if he qualifies on pole.
READ: Formula 1 Monaco GP 2013: Nico Rosberg Leads Ferrari in Thursday Practice at Monte Carlo