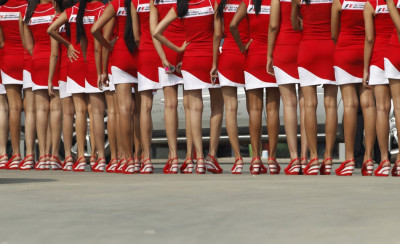 Red Bull's Sebastian Vettel continued his season-long domination as he won the first Indian Grand Prix in emphatic fashion.
The German completed F1's 'grand slam' of pole position, race win, fastest lap and leading every lap - for the first time in his career.
But the champion admitted it was a day of mixed emotion.
He said: "On the one hand I am very, very happy. It's the first Grand Prix in India and I am proud to be the first winner. But looking back at last two weekends, we lost two of our mates. I didn't know Dan Wheldon, but he was a big name in motorsport. I got to know this year Marco Simoncelli and our thoughts are with them."
"Yes, we are ready to take certain risks when we jump into the car but we obviously pray that every time nothing happens, but sometime you get reminded and it is the last thing that we want to see," said Vettel in his tribute to the two racers.
Wheldon died on October 16 after he was caught in a 15-car pile-up during the IndyCar Championships.
Simoncelli, a MotoGP racer, died at the Malaysian Grand prix in Sepang on October 23 following a crash.
IBTimes Sport takes a look at the best images from Sunday's race: