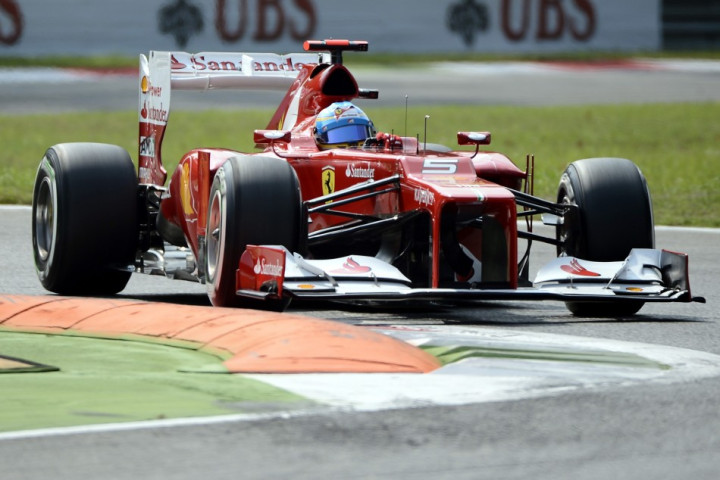 Ferrari driver Fernando Alonso has claimed a mechanical fault with his car meant he could not qualify on pole for the Italian Grand Prix.
The qualifying session for Sunday's race at the historic Monza track got off to a predictable start, given the pace of front-runners through the three practice sessions. Alonso was immediately and emphatically the quickest, recording the fastest times in Q1 and Q2 of the three qualifying sessions.
However, the Spaniard suddenly went completely off the boil at the start of Q3, turning in a poor lap of 1:25.678 to qualify tenth; his Q1 and Q2 times were 1:24.175 and 1:24.242 respectively. It now appears that a problem with the former double world champion's car prevented him from running at full speed.
After the session, Ferrari confirmed to Sky Sports that the rear anti-roll bar on Alonso's car broke at the start of Q3, leaving the Italian team little time to do anything about it.
"It seems [a] problem with the rear of the car. It seems to be a mechanical failure - we need to wait the car [for the car] coming back. It happened on the first lap of Q3. We knew that the car was not good because Fernando understood the situation straight away. So it's very unfortunate, but that's the way it is," Ferrari team chief Stefano Domenicali was quoted as saying by Sky Sports.
Alonso later indicated the pole position was well within his grasp and called it the "easiest" position.
"It's a shame because it was the easiest pole position for us. We did a [one minute] 24.1 in Q2 with an easy lap and looking at it they [McLaren] did 24.0 in Q3. It was easy for us to do that and we lost one big opportunity, but nothing we can do now. We try to be strong tomorrow, the car will be fixed, so we will see what we can do from tenth," the championship leader admitted.
Happy Hamilton
Meanwhile, pole position man Lewis Hamilton said he was delighted with the qualifying results but stressed that it was a team effort.
"It's been a tough weekend but we've managed to work on the set-up and on the package that the guys brought from the factory," the 2008 world champion said, "They've done a fantastic job so congratulations to the team and a great effort from the lads. I managed to get a half decent lap at the beginning of Q3 so I'm pretty happy and it's great obviously for the team to have me and Jenson at the front."