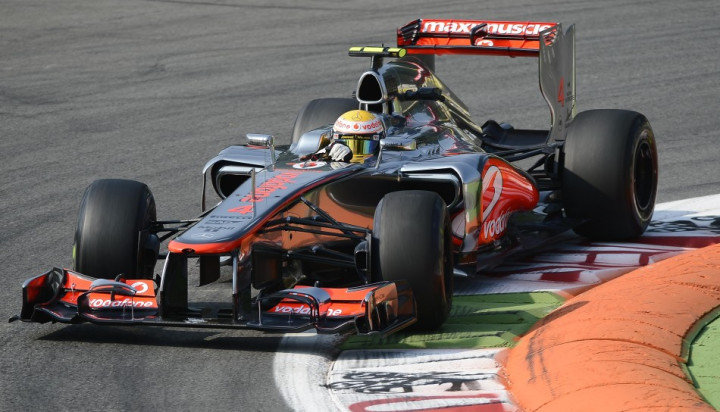 McLaren have qualified first and second for the 2012 Formula 1 Italian Grand Prix, in what must be one of the most surprising qualifying sessions in recent races. Lewis Hamilton, the 2008 world champion, and his team mate, Jenson Button (the 2009 world champion) lapped the historic Monza circuit with times of 1:24.010 and 1:24.133 to lock out the front row for Sunday\'s race.
Ferrari, for whom this is a home race, could only manage third on the grid, with Brazilian Felipe Massa clocking 1:24.247 in Q3, despite championship leader Fernando Alonso blitzing the field in Q1 and Q2. The double world champion (with Renault) set times of 1:24.175 and 1:24.242 in the first two sessions but failed to come anywhere close to that mark when it really mattered. He will start on the fifth row, in tenth place, after clocking 1:25.678. Alonso and Ferrari blamed broken bodywork on the rear of the driver\'s car as the reason for their slow time.
Meanwhile, it was a glorious afternoon\'s work for the Force India team, who saw British driver Paul di Resta storm to fourth on the grid, more than two-tenths ahead of Mercedes\' Michael Schumacher. The German driver, a seven time world champion (five of which were with Ferrari) was fastest in the first practice session on Friday but his times have fallen away since then and he could only record a 1:24.540 in qualifying.
Sixth place went to defending world champion Sebastian Vettel of Red Bull, whose difficult performances since the mid-season break show no signs of abating. Both Vettel and his team mate, Mark Webber, struggled all through the session. Webber will start 11th after being eliminated in Q2 with a best of 1:24.809.
Also in the top ten for Sunday\'s race are Nico Rosberg of Mercedes (seventh; 1:24.833), Lotus\' Kimi Raikkonen (eighth; 1:24.855) and Sauber\'s Kamui Kobayashi (ninth; 1:25.109)
However, it should be noted di Resta will be given a five place grid penalty, come Sunday\'s race, for an unscheduled gearbox change. That means the Force India man will have to start ninth on the grid. In addition, Williams\' driver Pastor Maldonado (who qualified 12th with a time of 1:24.820) will serve two five-place penalties, for infractions during the Belgian Grand Prix; he will drop to 22nd.
Provision Grid for Italian Grand Prix
Lewis Hamilton (McLaren-Mercedes)
Jenson Button (McLaren-Mercedes)
Michael Schumacher (Mercedes)
Sebastian Vettel (Red Bull Racing-Renault)
Kimi Raikkonen (Lotus-Renault)
Kamui Kobayashi (Sauber-Ferrari)
Paul di Resta (Force India)
Fernando Alonso (Ferrari)

Note: The grid is subject to FIA approval and will be finalised on the morning of the race.
For the full qualifying grid, before penalties, click here.