F1 risks 'loss of knowledge' by pushing Bernie Ecclestone out, says Mercedes chief Toto Wolff
Ecclestone was replaced by Chase Carey as the new CEO of Formula One.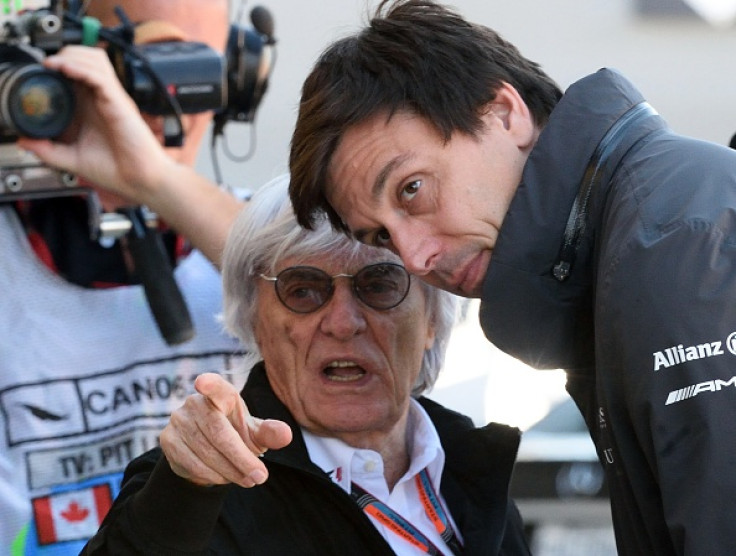 Mercedes motorsport boss Toto Wolff has called on the new Formula One owners to retain the services of Bernie Ecclestone owing to his knowledge of the sport after running it for the last forty years.
Liberty Media completed the takeover of F1 last month in a £6.2bn ($8bn) deal and have installed new management to run the day-to-day affairs of the sport. The 86-year-old has been deposed from his CEO post and American executive Chase Carey has taken over as the chief executive with Ross Brawn and Sean Bratches joining him as managing directors taking care of the sporting and commercial operations respectively.
Carey has made it clear that the new management will bring a fresh perspective to the sport and move away from Ecclestone 'dictatorial' style of management. The former F1 chief has been handed an honourary chairman emeritus role, but the new CEO has made it clear that his advice will only be taken when they deem it necessary while labeling the recent decision making in the sport 'ineffective' and 'inefficient'
Wolff has deemed their move a mistake and believes their move will risk a lot of knowledge to be lost, owing to Ecclestone's experience in running F1 which he has made into one of the biggest sporting extravaganzas in the world. However, the Mercedes boss also welcomed changes and believes formula One's presence in digital media can be improved, something that it has been lacking during the Ecclestone era.
"With Bernie, you never know if he's really gone or if he's going to come back somehow," Toto Wolff told Frankfurter Allgemeine Zeitung, as quoted by PitPass.com
"However, Liberty has not only gained the majority of shares in Formula 1 but also secured the voting rights. Chase Carey is the new boss, that is a fact, though Bernie might stay on as honorary president.
"There is a risk that a lot of knowledge is lost. Bernie has developed this series into one of the largest global sports companies in the last forty years. He has made incredibly good deals, we have long-term TV contracts and we achieve great reach because we run on free TV. Becoming part of that is certainly not easy because so much is based on personal relationships that Bernie has built up over decades," the Mercedes chief explained.
"On the other hand, there are also blind spots where we can improve," he admitted. "We do not have enough in the digital media yet. This is something that is not yet monetised, but as a marketing tool it is of immense importance to attract new target groups."
© Copyright IBTimes 2023. All rights reserved.