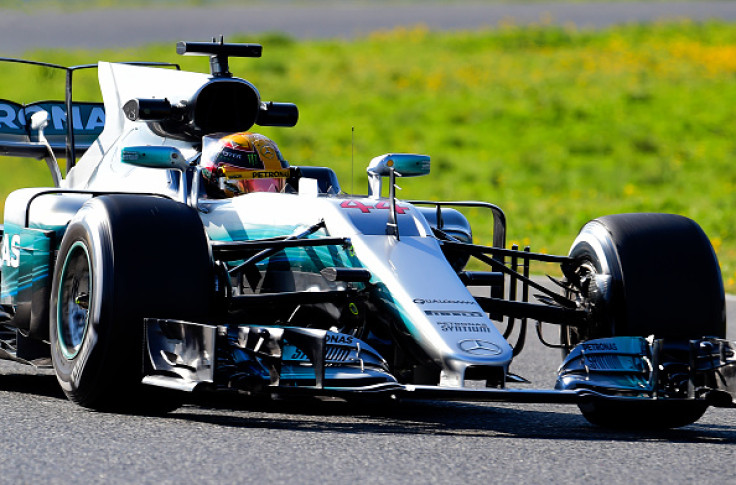 Lewis Hamilton has reiterated his concerns about the lack of overtaking opportunities during the 2017 season owing to the new aerodynamic rules despite labelling the new Mercedes W08 a 'beast'.
The Briton had his first proper taste of the new car on day one of the first pre-season test at the Circuit de Catalunya and immediately confirmed that the car was much better than last year. The new rules have seen the cars change shape drastically. They are now wider and longer and meaner looking. They also sport wider tyres, which along with the size will provide more grip and downforce making them much faster than their predecessors.
The three-time world champion was the fastest after the first day ahead of Ferrari's Sebastian Vettel, and is hoping the new cars will make it more exciting for the fans. However, Hamilton has warned the races could get boring as the new tyres are very conservative which will lead to fewer pit-stops, and revealed that it was hard to follow cars during the first day of the test which could make overtaking difficult.
"It is a beast," Hamilton said after his first proper run in the W08, as quoted by ESPN. "It is so much better than last year. It is much more beefed up version of the car we have had in previous seasons."
"It was a great first day to get that many laps in and our car looks the best. I think the cars look fantastic, the tyres look fantastic, the wider wheels, the wider body and the wider chassis. Hopefully it is great for the fans.
"I was behind a couple of cars out there and it was harder to follow but that is to be expected. The tyres are so hard. They do not drop off. They keep going and going. So it is most likely we will be doing a lot more one-stoppers and as there is not any degradation less mistakes and less overtaking. That is my prediction," the British driver explained.