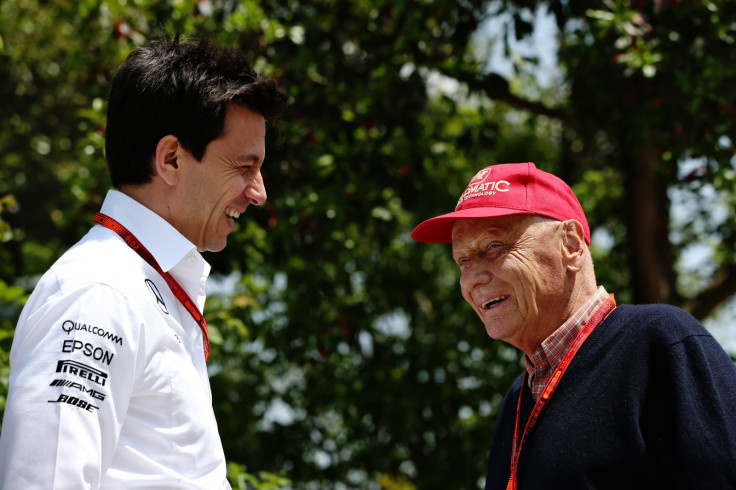 Mercedes boss Toto Wolff and non-executive chairman Niki Lauda have extended their contracts with the Formula One constructors champions until 2020. The deal sees the pair retained until the end of the Silver Arrows' current deal to compete in the sport which runs until the start of the next decade.
Wolff and Lauda, who own a 30% and 10% stake in the team respectively, have proved influential figures as Mercedes have dominated F1 winning the drivers and constructors championship in each of the last three seasons. Lewis Hamilton claimed the title in 2014 and 2015 before Nico Rosberg prevailed last year prior to retirement.
"Winning is never down to single individuals – it is about the right group of people coming together, aligning themselves with a common objective and then combining their talents to achieve that target," said Wolff, according to the Mercedes official website. "Each day I come to the factory, I am humbled to have the privilege of representing this inspiring group of people."
Lauda, a three-time world champion in 1975, 1977 and 1984, added: "The last few years have been some of the most enjoyable I have had in Formula One. Toto and I formed a perfect partnership at Mercedes and we have a great team on every level that has delivered results. I must thank Dieter and the other members of the board of Daimler AG for renewing their confidence in us."
The news comes amid a winter off-season which has seen change aplenty at Mercedes. Valtteri Bottas was drafted in from Williams to replace Rosberg and partner Hamilton for the new campaign. Meanwhile, behind the scenes, technical director Paddy Lowe has been placed on gardening leave ahead of his move to Williams, with James Allison enlisted as his replacement.
On Thursday [23 February] Mercedes will unveil their new car for the 2017 season, three days ahead of the start of pre-season testing. Teams will have the first chance to check out their rivals in a five-day session starting on 27 February in Barcelona before they return to Catalonia for four days from 7 March. The season begins in earnest with the Australian Grand Prix on 26 March in Melbourne.