A Canadian passenger plane has been escorted back into Canadian airspace by F16 fighter jets, after a passenger threatened to blow up the plane.
The dramatic events took place during Sunwing Airlines flight 772 from Toronto to Panama City this week.
Security is heightened after recent aviation disasters involving Malaysia Airlines flight MH17, which was shot down Eastern Ukraine, and Air Algerie flight AH5017, which crashed in Mali.
During the flight the passenger, named as Ali Shahi, 25, is said to have threatened to blow up the plane during a disturbance, prompting fears for the 183 passengers and six crew on board.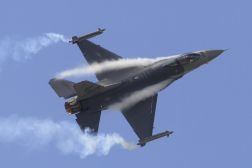 Two US F16 fighter jets were scrambled Ohio to force the plane to turn around over West Virginia, 45 minutes into the flight. The jets escorted the passenger plane back to Toronto Pearson International Airport, where armed police stormed the plane and removed Shahi.
Witnesses said the events were "extremely scary".
Sharon Ramsay told Sky News: "The pilot came on and said there was a threat and they had to take it seriously and turn around and we're heading back to Toronto. We came back and waited on the tarmac for about an hour and then the task force came in, they stormed in.
"They came in the front and back of the plane and they yelled 'hands up, heads down, hands up, heads down'. It was just awful."
Fellow passenger Manjo Chopra said he thought the altercation began over a purchase. "I think it was about buying something, he didn't have the right card and that's what triggered it."
North American Aerospace Defence Command said the two fighter jets from Ohio flew with the plane out of US airspace as a "precaution".
Sunwing Airlines said it acted after an "agitated passenger directly threatened the aircraft".