A team of former Lionhead developers has announced plans to crowdfund a digital card game based on the lore and mechanics of the Fable franchise. Titled Fable Fortune, the free-to-play game is aiming to release in early 2017 on Xbox One and PC.
Flaming Foul Studios' campaign is hoping to raise £250,000 on Kickstarter that would bring the fondly-remembered series back to life after its original creator Lionhead Studios was unceremoniously shuttered by Microsoft in March 2016.
The independent studio comprised of Lionhead alumni Craig Oman, Mike West and Marcus Lynn has licensed the Fable IP from Microsoft for Fable Fortune. The team also revealed that the game had originally entered development in 2014, but was cancelled alongside co-op RPG Fable Legends.
The Hearthstone-esque game introduces Fable-like "quests", as well as heroes and powers to the traditional collectable card game set-up in its single-player, co-op and online PVP multiplayer modes.
West told IGN that the team's focus is on "improving the genre" with a 3D art design, AI bosses in online co-op and by infusing the game with the series' wry humour and fantasy aesthetic via in-jokes and "lost" character concept designs.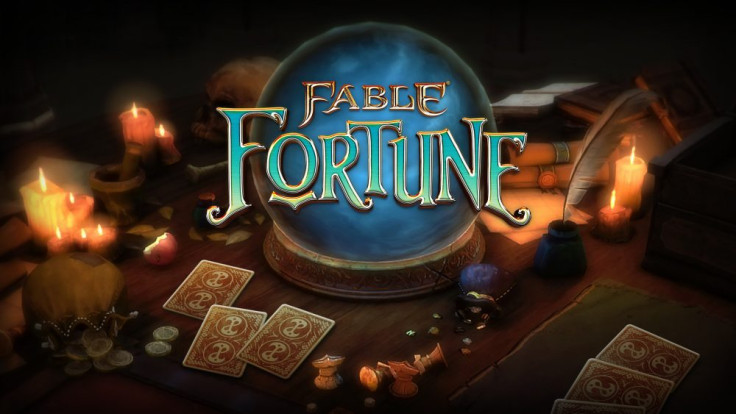 "I think this is something that Fable fans are going to enjoy," Oman said of the game. "We're definitely very keen to keep giving them new and interesting things. We have the ability to add new creatures and characters to this game and the world of Albion. I think we can certainly give them that Fable fix that they'll be looking for."
Should the crowdfunding project be successful, Flaming Foul Studios hopes to begin closed beta testing during the closing weeks of the campaign. An open beta would then be scheduled to follow in October before the game's general release in early 2017.
The Kickstarter campaign launches at 3pm GMT on 31 May.