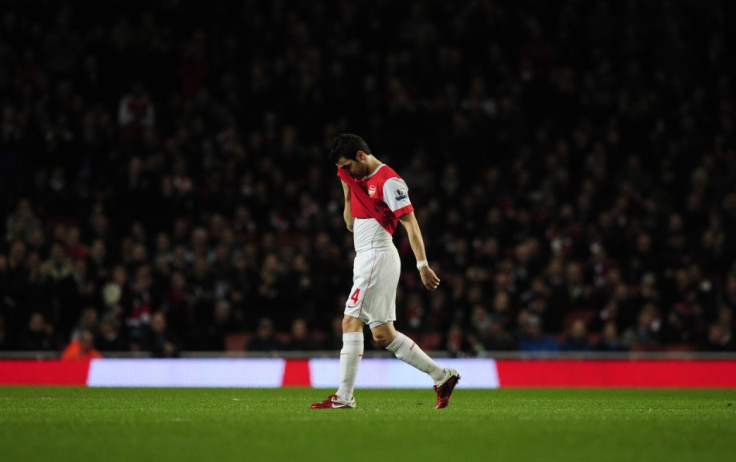 Cesc Fabregas has endeavoured to explain the reasons behind his decision to leave Arsenal in the summer, by claiming the time was right for him to exit the Emirates.
The former Arsenal captain, who spent eight years at the Gunners, believes he had "given everything" for Arsene Wenger's side during his spell in north London and intimates he could no longer give any more than he already had.
Citing times when he played for Arsenal "with a broken leg" and others when off-field issues could easily have been a huge distraction, Fabregas claims his commitment to Wenger and the Gunners could never be questioned during his spell at the club.
Fabregas moved to Arsenal in September 2003 and subsequently became a hugely influential player for Arsene Wenger's side. The player left this summer after Barcelona finally concluded their protracted efforts to prise their former midfielder away from the Emirates, yet Fabregas believes the time was right even if it remains very sad for him.
"I took that decision because I thought it was the right moment. I'd given everything for Arsenal.
"I played with a broken leg, I played when my grandfather died. He died at seven in the morning and the coach said: 'Go home', And I said 'No, I want to play' and I went the next day." The former Arsenal captain explained to the latest edition of FourFourTwo Magazine.
"I gave everything but you reach a moment when you say: 'I can't give any more'."
When asked if he was sad to leave Arsenal, Fabregas said: "Yes, very. I'll always have that thorn in my side, that sadness.
"I wish I had gone having won something, at least to leave with a title. After everything you've given, everything you have learned...but we never had a team like United or Chelsea, who have always had a base of seven or eight players together for years. We were always changing: one would come in, another would go, another wants to leave...in the end, it makes a difference."
Fabregas spent eight years at Arsenal where he established himself as one of the finest midfielders in Premier League history. He left the Emirates in a €34 million deal when he returned to Barcelona on August 15 but has since spoken glowing about his former club and his old manager Arsene Wenger.
The ex-Arsenal star recently suggested were he to leave Barcelona it would only be to return to the Emirates.
The January issue of FourFourTwo Magazine is now available.