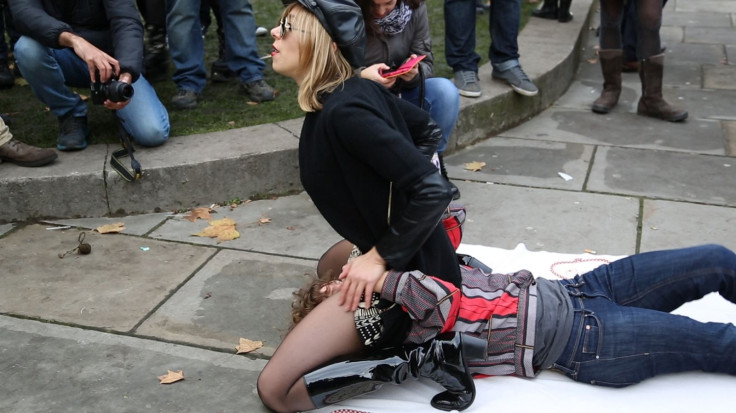 Dozens of protesters gathered outside the Houses of Parliament to participate in a mass face-sitting demonstration on 12 December to express their dismay at new censorship laws for British pornography.
The laws that have been recently introduced stipulate British-made adult video-on demand films must cease from containing many controversial acts including, but not limited to, spanking, fisting, face-sitting and female ejaculation, which has been deemed by the BBFC as "life threatening".
As the event's Facebook page reads, it was organised to "protest against the new sexist laws - This is not supporting sexual equality and something needs to be done!"
Spandex-clad men and women gathered at the protest, which caused something of a media frenzy with seemingly as many press members as there were demonstrators.
Charlotte Rose, the event organiser and "Sex Worker of the Year 2013", told IBTimes UK: "We all unified today for something amazing. I feel that we could have got more face-sitting going on if the media had moved out the way a little bit but it just plays on example for the next one."
Rose, who stood as an Independent candidate in the Clacton-by election, told IBTimes UK she hopes to take the demonstration around the country in a bid to make herself heard.
She said: "I reckon we should get some competitive action going on and maybe take it to Brighton or another area and see if we can get something bigger, and then I can come back to London and say 'hang on a minute, Brighton's beaten you with this one'.
"We're all here for the same reason in regards to personal liberties and censorship but let's have a bit of fun. Politics doesn't always have to be so serious and I think the more fun we have, the more people will want to do it and the more people who want to do it, the bigger we will grow, and the bigger we will grow, the louder we will get, and the louder we get, the more we will be heard."
New laws will 'play havoc' for producers
Pandora Blake, an independent feminist adult film producer and website runner who makes "spanking porn", said the new laws were going to play havoc on her business, with certain aspects of it becoming criminalised under the new laws.
She told IBTimes UK: "I don't do this because I'm turning a profit from it, I do it because it's my art, my sexuality, my fetish and an expression of who I am. I'm not going to stop doing it because some old men in an unelected commercial regulatory body decided that it's not OK. But I am now at risk of having my business shut down and being taken to court if I refuse to comply.
"[Fisting] is only illegal because it's in the Obscene Publications Act 1959, a date at which homosexuality was still illegal."
One protester told IBTimes UK: "Feminism has come a long way and so has sexual expression. Sex is an important part of our culture so I feel that by oppressing it by putting all these rules, which are mainly misogynistic, it's going to affect a lot of people, not just women.
"There were a lot of people face-sitting and no one's life was in danger." Lifting her skirt to show her bottom, which was covered in bruising from caning and spanking, she added: "I wasn't in danger and it was all for pleasure!"