Spending on mobile adverts in the UK is expected to reach almost £1bn this year, up 90% from 2012, as advertisers begin to see the strength of targeting mobile apps and social networks.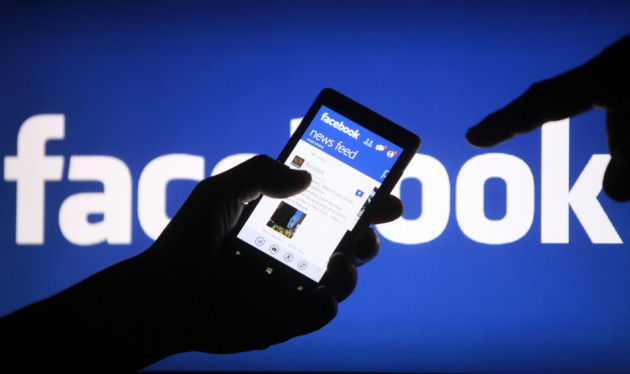 Digital ad spending, which includes both mobile and computer browser formats, will rise by 12% this year to reach £6.1bn, marking "robust" growth, according to figures released by eMarketer.
The impressive growth has been driven by British consumers' obsession with smartphones and tablets from the likes of Apple, HTC and Samsung, and a consistent fall in prices has helped to get these devices - and the adverts they show - into more hands every day.
Looking ahead, eMarketer expects to see the UK digital ad market increase to more than £8bn by 2017, of which mobile adverts will account for £3bn, marking a forecasted tripling in mobile ad spend over the next four years.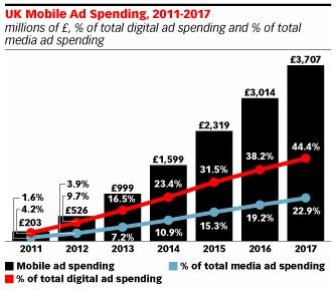 The growth in mobile ad spending has been aided by Facebook, which has invested heavily in developing its ad strategy on smartphones and other mobile devices, a business model which was almost non-existent a year ago and represented a major cause for concern among potential investors as the company prepared for its IPO.
Since then though, mobile adverts have rolled out across the social network's products, and just last week Facebook announced it now has more than one million companies and brands advertising on its services. It claims 61% of UK users have 'Liked' at least one local business page on the site.
The network also revealed that advertising revenue for the first quarter of 2013 grew 43% year-on-year to £800m worldwide, with mobile ads accounting for 30% of this, up from almost nothing 18 months ago.
Clark Fredricksen, vice president of communications at eMarketer, told the Guardian: "Major ad platforms have vastly improved mobile ad products to advertisers over the last two years...two years ago Facebook and Twitter had no mobile ad business. Today the companies earn between a third and half, respectively, of all revenues from mobile ads."
Search
Although social networks like Twitter and Facebook have improved their ad strategy over the last year, Google and search engines remain the major winners. eMarketer said: "Search will account for more than half of all investments in online and mobile advertising through 2016.
"Advertisers are taking particular advantage of the opportunities mobile search offers. Display ad spending will total one-fourth of digital ad expenditures in 2013, but its share is growing rapidly thanks to massive increases in video advertising."
eMarketer expects Google will make £2.65bn from search and display digital advert revenue this year, representing 44% of a total UK digital ad market of £6.1bn for 2013, which is 12% up on last year.