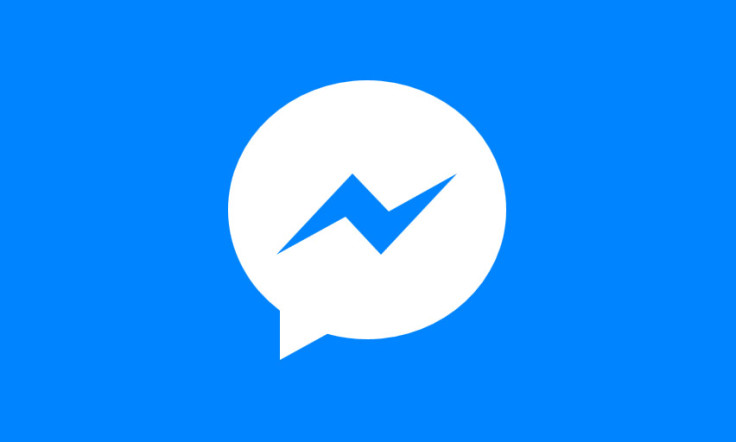 Just as Facebook began disabling direct messaging from its main mobile app in 2014, the company now appears to be taking away the ability to send and receive direct messages from its mobile website as it pushes users towards its Messenger app.
The issue seems to be mostly affecting Android devices for now. Users have reported that they are now being redirected to Facebook's dedicated Messenger app when they tap on the messenger icon within m.facebook.com. When IBTimes UK tried to access DMs on Facebook's mobile site, we were prompted with the message: "Your conversations are now moving to Messenger", before being redirected to the download page for Messenger on Google Play. Users with Messenger already installed may find themselves being redirected to the app instead.
It is a near-identical set of circumstances to those users reported when Facebook took away the ability to send DMs within its mobile application a couple of years ago. Indeed, Facebook says that the move is nothing new and is just the next part of its ongoing process to get subscribers using its standalone messaging app.
The company says doing so will ensure users get the "best experiences" from Messenger, which may prove contentious for those who find it more convenient to access messages within Facebook's mobile site, rather than having to download a separate application to do so.
It is likely Facebook also does not want all the hard work it has funnelled into its instant messaging app in recent months to go to waste. As well as pouring resources into chatbot integration, the company has also expanded the app's capabilities to support things like five-person group calling and multiple account logins. It has also been reported that the company is looking to bring support for mobile payments to its Messenger app, which comes as competition mounts from rivals like Snapchat, Twitter and the anticipated Google Allo.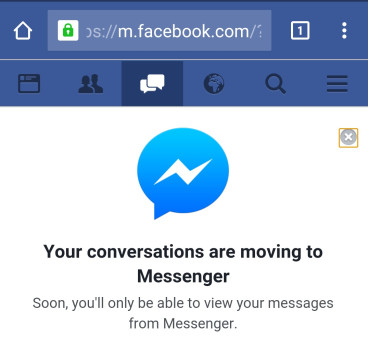 Message received
The forced diversion to Messenger is unlikely to sit well with security-conscious users particularly in the wake of fresh concerns surrounding Facebook's information-collecting abilities. A recent feature to hit the Messenger app in the US allows Facebook to hit users with targeted ads, based on audio it collects from their smartphone's microphone. While this feature can be turned off from within the apps settings, it once again poses the question of just how much Facebook knows – or could potentially find out – about its users.
While it is still possible to send and receive messages on the mobile site, Facebook has not made it easy. We were able to get back to our inbox by backing out of the Messenger download page and then hitting the 'X' above the prompt telling us about the move to Messenger. If hitting the inbox button on the mobile site takes you straight into the app, just hit your phone's back button and follow the same steps. Be advised that this workaround will only work until Facebook decides to migrate all its users to Messenger, whenever that might be.