More than half of Facebook users confess that they are worried about the new Timeline design, which displays everything a user has ever done on the site in chronological order.
In a study conducted by security firm Sophos 51.29 percent of the 4100 Facebook users asked said that Timeline worries them, while 32.36 percent said that they do not know why they are still on Facebook.
Around eight percent said that they liked Timeline and the final eight percent confessed that they would probably get used to the new design for their profile pages.
Sophos said: "Now, we can't claim that the poll was scientific - and the kind of people who participate in our polls might be more conscious of privacy and security-related issues than the average man in the street.
"Nevertheless, it does seem to me that there are some genuine reasons to pause before embracing the Facebook Timeline as an entirely positive thing."
Facebook Timeline was debuted at last year's f8 developers' conference and has been available as an opt-in feature for around a month, but starting imminently Timeline will be compulsory for everyone.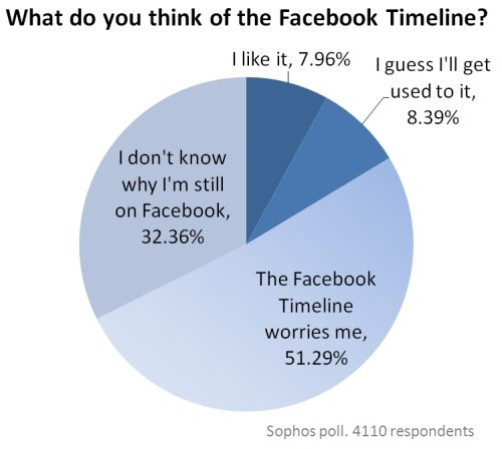 Users have seven days to arrange their Timeline; deleting or un-tagging photos, and organising folders of photographs by date and location. After seven days their Timeline will be seen by all of their friends and documents in chronological order everything the user has ever done on the social network.
Graham Cluley of Sophos's Naked Security blog said: "I'm somebody who was never a rabid Facebook user, and have been well aware of the various risks that come along through sharing too much online, and yet the Facebook Timeline brought home to me just how much I had shared in the way of status updates, photographs, groups I had joined and 'Like's I had made."
Cluley adds that, while users often do not like updates to Facebook's design and privacy settings, they stay on the network for fear of feeling left out socially.
"In my experience, there's a sizable group of people who aren't big fans of Facebook but still stay on the site, because they feel they would miss out if they weren't there. After all, if that's where all your friends are - you don't want to be the one not knowing what's going on, do you?"