Failed asylum seekers hunted down and deported as Swedish border police crack down
160,000 asylum seekers came to Sweden in 2015 but some disappear after being rejected.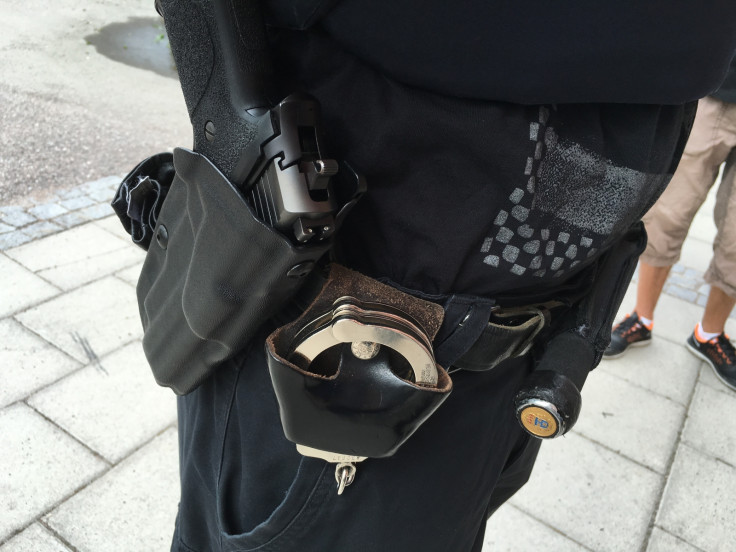 In an office in Uppsala police station, Therese Soderin apologises for another interruption. This time it is the migration agency calling to tell Soderin, who heads up the Border Police in this university city, that a man whose asylum application has been refused won't leave the country and that police now have to find and deport him.
Soderin hasn't long been back from the airport where she had been overseeing the deportation of a man to Albania. In the next hour there will be two more men sitting in reception: one using someone else's ID number and a Syrian who was supposed to have been sent back to Bulgaria, where he had first claimed asylum.
For Soderin and her team of 15 staff, it is a normal morning in what are unusual times for Sweden. In the past year, she says her workload has doubled. That's because of the number of asylum seekers Sweden has received in the past couple of years, culminating in 160,000 arriving last year.
Figures show that 45% of people who claim asylum in Sweden are rejected. Many leave voluntarily if their appeal fails, but others disappear, which is when the case is handed to the police.
"Last year we received slightly in excess of 11,000 cases from the Migration Agency and in excess of 7,000 of those were already absconded, they were nowhere to be found," said Patrik Engstrom who is head of the Border Police for the whole of Sweden. "And last year we carried out slightly in excess of 3,500 deportations."
As more asylum decisions are given in the coming years, the police expect a bigger workload. The country's Interior Minister Anders Ygeman made international headlines earlier this year when he suggested Sweden could possibly charter aircraft to remove the large numbers of refugees expected to be rejected in the coming years. Soderin says she expects to double her workforce.
She has sympathy with the people she is trying to catch - "they deserve a better life than hiding from the police and authorities in Sweden" - but insists she has a job to do. Engstrom says the prospect of more people going underground is a concern.
"The police have the responsibility to ensure that they are removed that they are repatriated back to where they came from but also because people residing outside of society are people that are vulnerable," he says.
"They are vulnerable to those preying on people, they have to work, they may have to work in settings that are unsafe, they really can't go to the police or report to the authorities if they're victimised, if they become victims of crime so clearly it's for them as individuals as well as for society at large, it's truly negative to have a large group of people living outside of society."
Finding those people who live on the fringes of society could be made easier with a change in the law, Engstrom believes. Although new tougher rules for refugees were approved last month, it's currently not legal for the police to make routine checks on workplaces, even if they reasonably suspect a person is illegally employed.
He gives the example of nail bars or car washes that are so cheap that they couldn't realistically be paying all of the tax and other payments they need to if they are employing staff legally. That is not enough for the police to be allowed to check immigration status.
Instead they need concrete information that a person is being illegally employed. Soderin and her team were involved in the removal of 84 people illegally in Uppsala last year. They rely on tip-offs and writing letters to a person's last known address to let them know the police would like to meet them at the station. Somewhat surprisingly, she says this last method works. They also work together with the tax authorities.
One man who had been serving behind the counter is pulled aside. He hadn't been granted asylum and failed with his appeal.

Urban Olsson is an officer who has been doing that for the past few years. He dresses in casual clothes but under his long-sleeve shirt is a bullet proof vest. On his waistband are handcuffs and next to that, a gun.
On this day, he and two other officers are working with two tax inspectors. The tax authorities are allowed to check in on businesses they suspect might not be working within the law. It the police go with them, they are allowed to check the immigration status of employees. It' has proved to be an effective relationship in the mission to find people in the country illegally.
One of the stops they make is at a nondescript restaurant above some shops. One officer stays outside, by the back door. Olsson and his other colleague follow behind the two tax inspectors. They're two women in their 50s, casually dressed and unlikely to make anybody worry when they walk in the door.
But as they go to the counter and show their IDs, faces drop. The police ask the men working in the kitchen to come out and everyone is made to hand over identification. Sometimes people run, but not this time. There are no complaints and little fuss. The customers gathered at the table barely seem to notice.
Olsson calls the Migration Board and gives them the names and ID numbers of the workers. One man who had been serving behind the counter is pulled aside. He hadn't been granted asylum and failed with his appeal. He'd been told three weeks before that he had to leave the country and wasn't supposed to be working.
The Migration Board hadn't yet handed his file to police, though, so they couldn't take him into custody. The restaurant will be fined.
But, to the frustration of Olsson, the next time they're back the man is likely to be long gone, still on their ever expanding list of those whose whereabouts is unknown.
---
Keith Moore spent five years working for the BBC, writing news and features, as a TV producer and making radio documentaries. He has also worked for the Associated Press.
---
© Copyright IBTimes 2023. All rights reserved.