As Salah Abdeslam, the only known survivor of the terrorist gang that attacked Paris on 13 November 2015, made his high-profile entrance into a prison in the southern suburbs of the capital, the sound of applause could be heard from other inmates.
The source of this chilling anecdote is Mario Guzzo, a senior official at Fleury-Mérogis, which houses 4,500 prisoners, making it Europe's largest jail.
Speaking during a visit to the prison by a French centre-right MP, Thierry Solere, and the newspaper, Le Journal du Dimanche, Guzzo reassuringly added that jeers outnumbered the cheers on April 27, the day Abdeslam arrived after extradition from his native Belgium.
Those showing approval for a man accused in connection with the slaughter of innocents were "above all the youngest prisoners", Guzzo said.
With their mixture of bravado, defiance and depravity, perhaps these admirers of mass murder are a lost cause, beyond the reach of a moderate Iman who devotes much of his life to fighting the radicalisation of Muslim detainees.
But Mohamed Loueslati, 66, a visiting chaplain covering prisons throughout the west of France, sees it as his mission to persuade those he meets to abandon thoughts of Jihad.
"There are successes, those who are willing to listen and discuss," says Loueslati, who is French of Tunisian birth and based in the Breton city of Rennes. "But there are some, a small minority, who do not want to talk and the danger is that they will eventually leave jail without jobs or the means of support and fall back into delinquency or even be lured into terrorism."
The Iman works with 25 other Muslim volunteers touring jails in the regions of Brittany, Normandy and the Loire. A majority of the 8,000 prisoners they house are Muslims, overwhelmingly young and in most cases facing uncertain futures when they complete their sentences.
A French sociologist, Céline Béraud, has described this work as remarkable, the visitors demonstrating complete commitment to their chosen mission. But the voluntary nature of their efforts stands as a major obstacle to success, according to Loueslati.
"I am very pessimistic that our charitable status means we cannot do enough," he says. "There is only so much time the volunteers can spend on visits."
He urges the French prison authorities to accept that the service he and his colleagues provide must be put on a professional footing, as in the UK, where the Justice Department confirms all chaplains, of whatever faith, are paid.
"There is no legal impediment," Loueslati argues, pointing out that France's 1905 law on the separation of state and religion contains a specific exception that would permit prison chaplains to be remunerated, in other words treated the same as British counterparts facing a comparable challenge.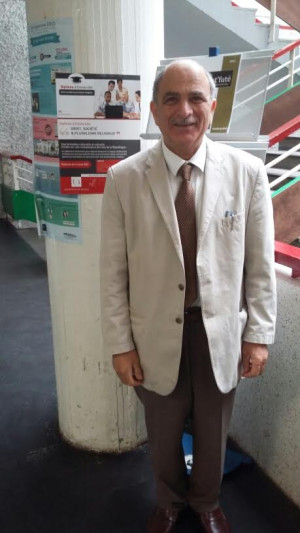 How criminals become jihadis
Radicalisation in prison, dealt with by Loueslati in his book, Islam in Prison, is widely recognised as one of the gravest problems facing the authorities as they seek to stop impressionable young Muslims being recruited for terrorism.
Both Abdeslam and his brother, Brahim, who blew himself up in the Comptoir Voltaire brasserie after being involved with other Islamic State (Isis) terrorists in the murder of people on the terraces of other Parisian restaurants and bars, both had criminal records.
It was in jail that Salah met one of the supposed Paris ringleaders, Abdelhamid Abaaoud, killed when police stormed a flat in the Parisian suburbs five days later.
And the recent history of Islamist terrorism in Europe is riddled with examples of men who entered jail as petty criminals and emerged as committed jihadis, prepared for action either in the Syrian and Iraqi conflict zones or murder on their own streets.
Such as Mohamed Merah, who in 2012 killed seven people including three Jewish children, in the south-western French cities of Toulouse and Montauban, and the the 2014 Brussels Jewish museum killer Mehdi Nemmouche. Many more, including terrorists who took part in the Brussels bombings in March, had served jail sentences and may have been influenced while in prison or by those they met while there.
Other cases, which do not always reach wider public attention if they concern potential terrorist projects dismantled at an early stage, are regularly chronicled in local French media.
Unofficial estimates suggest between 50% and 80% of France's prison population of 68,000 are Muslim, the range reflecting regional variations. Loueslati does not pretend he can prevent all potential recruits being turned into extremists, but insists attention must be paid to the need for prevention, dialogue and education as well as to security issues.
"If de-radicalisation is a matter for the state, it is also one for civic society," he says. "And I honestly feel the government has no choice but to professionalise the work we do as chaplains."
With or without paid chaplains to offer young inmates the voice of reason, the task is a tough one. Earlier this year, the British government was accused of sitting on a report showing the disturbing extent to which extremists had infiltrated the prison system.
Among leaked details of the report, commissioned by then Justice Secretary Michael Gove, and written by Ian Acheson, a former prison governor, was a finding that 130 convicts serving sentences for terrorism were able to "mingle with other Muslims, providing a perfect environment for radical Islam to flourish".
Whatever embarrassment felt when details of the report were leaked – the justice ministry says now it was not buried but will remain unpublished "for security reasons", with only a summary appearing "in due course" – ministers insist that combating extremism in jail is a key objective.
A counter-extremism strategy published by the UK government in 2015 said the behavior of 1,000 prisoners raised concern, a figure comparable to some estimates of radicals within the French prison system.
Prime Minister David Cameron said that beyond those convicted or detained for terrorism, or known to hold extremist views, "a much wider group of offenders are vulnerable to those promoting extremists ideologies while in prison".
Others have gone further. Maajid Nawaz, founding chairman of the Quilliam Foundation, which sees itself as the world's first counter-extremism think tank, described British prisons as a "forcing house of Islamist extremism". Crispin Blunt, then justice minister, described this description as "sensationalist and not backed by evidence".
What the available evidence does appear to show is that whether inside or outside jail, peer group influences matter much more than rogue preachers in mosques in turning feckless, disaffected youths into terrorists.
The French government's latest plan for resisting radicalisation in jail includes dedicated units in a handful of prisons where those convicted of relatively minor terrorism offences, mere association and not including actual involvement in violence, are held. The targeted individuals, all considered potentially dangerous but not yet beyond hope, and are subjected to a concentrated programme of deradicalisation.
For Loueslati, the emphatically anti-extremist Iman in Brittany, it is essential these men - they are predominantly male – are guided by fellow-Muslims and that those responsible for the guidance are treated as salaried staff.
IBTimes UK asked France's justice ministry for a response to Loueslati's comments but received no reply.
---
Colin Randall spent 29 years at The Daily Telegraph as reporter, chief reporter, executive news editor and Paris bureau chief, was executive editor for the launch of The National (UAE) in 2008, and now freelances and edits websites from London and the south of France. He tweets at @salutsunderland
---