The second hostage who was killed during a failed rescue operation by US military forces in Yemen has been named as Pierre Korkie, a South African aid worker.
Korkie was also executed on Saturday morning after an attempted US rescue operation ended in failure with the death of Korkie and Luke Somers.
Korkie's death was confirmed by Gift of the Givers, a South African aid organisation, who Korkie's wife, Yolande, was working for in Yemen.
"We received with sadness the news that Pierre was killed… in an attempt hostage release in Yemen early this morning (Saturday).
"Our heartfelt condolences to his family in this hour of difficulty."
The aid organisation revealed that Korkie was expected to be released on Sunday, after a long period of negotiating with the militants had led to a deal being agreed.
Gift of the Givers said that on Sunday, Korkie was supposed to be transported to the airport "under diplomatic cover, then to meet with family members in a 'safe' country (and) fly to South Africa."
Korkie was working as a teacher when he was abducted along with his wife, Yolande, an aid worker, on 27 May 2013. They were seized by militants in the Yemeni city of Taiz.
Yolande Korkie was released in January. It is unknown whether a ransom was paid for her safe release.
It is believed that his captors, militants from Al-Qaeda in the Arabian Pennisula (AQAP), had reportedly been demanding a ransom of $2.85m (£1.83m) for the safe release of the South African teacher.
Korkie was one of four hostages, including the photojournalist Luke Somers, who were moved to a network of caves just hours before an attempted US rescue operation. Up to 10 Al-Qaeda militants were killed by drone strikes on Saturday.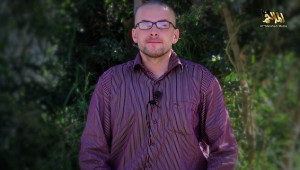 It is believed Korkie and Somers were executed shortly after the botched rescue.
Chuck Hagel, the US Secretary of Defense released a statement confirming the death of Luke Somers and "a second non-US citizen hostage".
Hagel said: "Yesterday, by order of the President of the United States, US Special Operations Forces conducted a mission in Yemen to rescue a U.S. citizen, Luke Somers, and any other foreign nationals held hostage with him by Al-Qaeda in the Arabian Peninsula (AQAP) terrorists. There were compelling reasons to believe Mr Somers' life was in imminent danger."
"Both Mr Somers and a second non-US citizen hostage were murdered by the AQAP terrorists during the course of the operation. On behalf of the men and women of the US armed forces, I extend our condolences, thoughts, and prayers to their families and loved ones."
Hagel confirmed that "several of the AQAP terrorists holding the hostages captive were killed" in the rescue mission.
Hagel commented: "The rescue attempt took place in central Yemen and was conducted in partnership with the Government of Yemen. I thank President Hadi, the Yemeni government, and Yemen security forces for their assistance and cooperation.
"Yesterday's mission is a reminder of America's unrelenting commitment to the safety of our fellow citizens – wherever they might be around the world. I commend the troops who undertook this dangerous mission. Their service and valour are an inspiration to all of us."