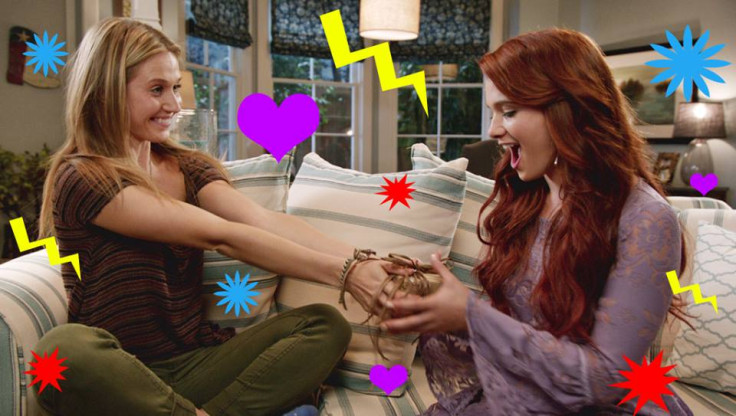 Faking It season 2B returns with a lot of drama on 31 August, where Amy and Karma will share a kiss.
MTV has released a new trailer for its teen series, where Karma (Katie Stevens) seems to have forgiven Amy (Rita Volk) for sleeping with Liam (Gregg Sulkin).
Amy tells her mother, "She [Karma] has totally forgotten me for sleeping with Liam."
The next scene shows Amy, Karma and Liam in a car and Karma convincing everyone that she is over it. However, in the very next scene we see Karma telling Liam, "I want to forgive you, but I need to be in control" as she ties him up and makes out with him. Later in the promo we see Liam hooking up with another girl.
The trailer also shows a new potential love interest for Amy, with a mysterious guy asking, "You are not straight ... then what are you?"
"Allergic to peanuts, and labels" replies Amy, as we see them kiss later. However, the last we saw was Amy in a relationship with Reagan, but her kissing another guy will stir up trouble for the couple.
We hear Reagan shout, "How can you not tell me you are into guys?" and Amy replying, "I am not sure I am."
"My old feelings for Karma came back" says Amy in the promo video, as we see Karma and Amy sharing a kiss in the pool.
Actor Katie Stevens previously teased heartbreaks as she dished to E!online, "You're going to see heartbreak."
"You're going to see girl kisses, you're going to see guy kisses, you're going to see girl-guy kisses...we've got it all!" she teased.
Actor Rita Volk also teased Karma and Amy's future and said there is still a certain distance to fall.
She told MTV: "That's gonna start on a rough patch. When we left the last season, Karma was like, 'I'm over it, and everything is OK' and Amy doesn't quite believe her."
"They'll get worse before they get better," she added.
The last we saw Amy, she was dealing with the pressure of understanding her sexual identity, and according to a new report her girlfriend Reagan will butt heads over where they stand.
Showrunner Carter Covington said, "We're gonna see their relationship deepen, but also get challenged."
"It's gonna be, for Amy, an intense, volatile, emotional ride," Covington added.