The Fall's Jamie Dornan impresses despite being unconscious and covered in blood
Thriller returned to BBC2 last night for its third series.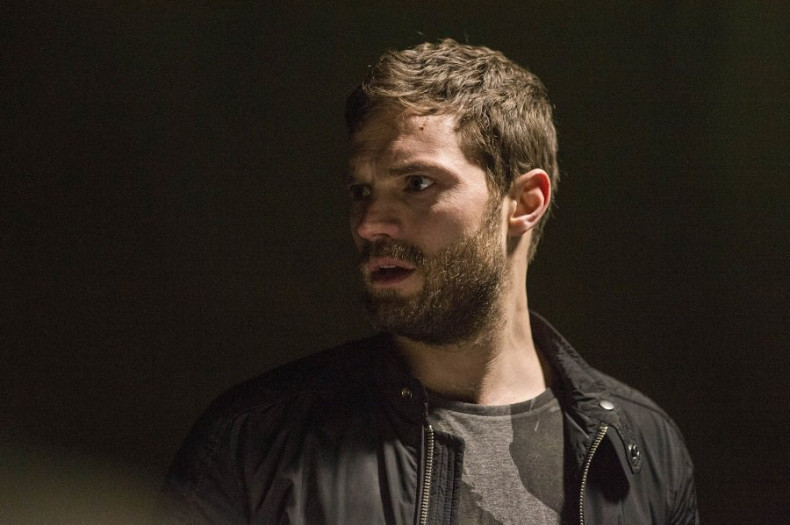 Psychological thriller The Fall returned last night (29 September) to BBC2 with its third series. The show left viewers hanging on the edge of their seats during the series two finale as serial killer Paul Spector – played by the alluring Jamie Dornan – lay bleeding in a wood after being shot by James Tyler (Brian Milligan).
Throughout the first episode of the third series, we saw Gillian Anderson's cool and collected character – Detective Superintendent Stella Gibson – wait around in Belfast General Hospital while looking a tad worried and on edge the whole time. The show thus far has centred around a cat and mouse chase between Spector and Gibson, and many viewers took to Twitter to express a sense of emotional attachment between the detective and the Belfast strangler.
Despite Spector being unconscious on a hospital bed for the entirety of the episode – not even his blood and gore could keep the flaxen-haired detective away from his side, according to fans. One viewer wrote on Twitter: "Stella Gibson is drawn to Paul Spector we all could see it when she was trying to save more than the other cop #TheFall" while another put: "Stella Gibson standing at end of bed watching Paul Spector. No one can touch @GillianA when it comes to just breathing. Awesome."
Other fans commented on the intensity of the programme, with one comparing it to a dark version of Casualty, writing: #TheFall - basically the most sinister episode of Casualty ever" as another added: "Even when unconscious, covered in blood and seeping bile through his mouth, Jamie Dornan is quite magnificent #TheFall".
The episode ends with Spector hooked up to a beeping, flashing machine which supports his breathing. Just one nurse tends to him and tells Gibson to leave his room. Gibson is stood staring at him in a rather bizarre manner. The nurse goes back to her paper work and with a final twist, Spector juts open his eyes. Gulp.
The Fall continues next Thursday at 9pm on BBC2.