The family of late Hollywood stars Carrie Fisher and Debbie Reynolds have confirmed plans for a joint funeral.
Star Wars actress Carrie, 60, and her mother, Debbie Reynolds, 84, famed for turns in films including Singin' In The Rain and How The West Was Won, died a day apart.
After revealing that Debbie's last words were "I want to be with Carrie," her son and Carrie's brother, Todd Fisher, 58, has said a double ceremony would be "appropriate".
"It's what we want to do, but we're still working on the mechanics," the director told the New York Daily News. "We like the idea, if it's at all possible. I think it's appropriate."
While Mr Fisher advised US network ABC that a location has yet to be decided, he and his family were spotted looking around the grounds of the Hollywood Forever Cemetery in Los Angeles. One of the family members could be seen holding a red dress believed to have belonged to Reynolds.
Although officially Debbie died as a result of a stroke, many believed it was due to a "broken heart" following Carrie's passing.
In her 2013 autobiography, Unsinkable, the big screen icon described her fears of losing one of her children. The mum-of-two explained: "It's not natural to outlive your child. This has always been my greatest fear," Reynolds wrote. "I don't know if I could survive that."
Taking to Twitter on Thursday (December 29), Todd uploaded a poignant drawing of his mother and sister in which they are shown embracing each other as their most famous film characters.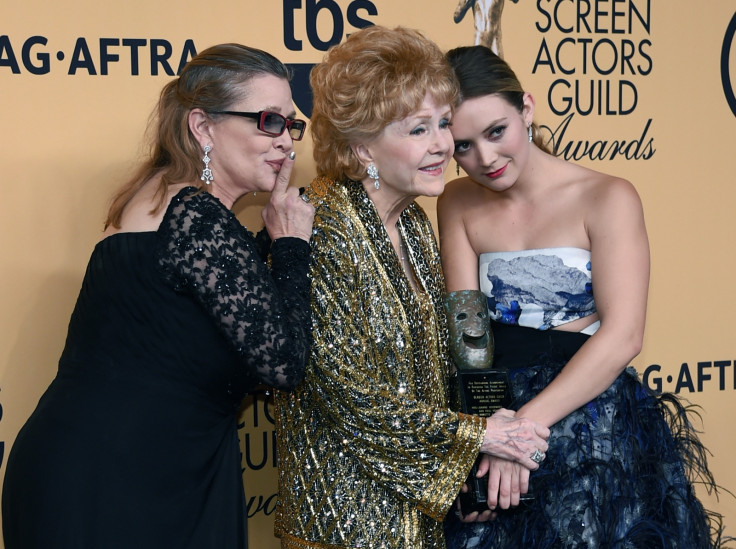 He wrote alongside it: "This is a beautiful love story to witness in my 58 years. I miss them both so much. Love is everlasting."
Carrie is survived by a daughter, actress Billie Lourd, 24. She currently stars in TV series Scream Queens as Chanel Number 3 and will be seen alongside her famous mother in the new Star Wars film out next year.
Fans have flocked to Debbie's star on the Hollywood Walk of Fame to lay down tributes.
Meanwhile, a makeshift shrine has been created for Carrie who did not receive a star in her lifetime, but could be awarded one posthumously.