Fans are freaking out over Ed Sheeran's cameo in Game Of Thrones season 7 premiere
'Arya telling Ed Sheeran that she's gonna kill the queen. She's thinking out loud,' says a fan.
British singer Ed Sheeran appeared in the Game Of Thrones season 7 premiere, which aired on 16 June (Sunday), in a random cameo singing a folk tune, and fans are freaking out.
Sheeran played the role of a soldier from King's Landing, part of a small group in transit in the woods. The lyrics are from a song that appears in George R.R. Martin's source material, the Song of Ice and Fire books: "For hands of gold are always cold, but a woman's hands are warm."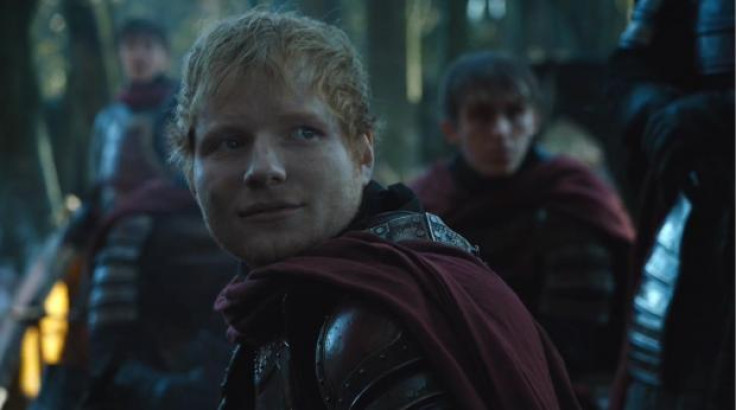 The Castle In The Hills singer featured in a scene where Arya informed a group of Lannister troops that she was on her way to King's Landing to kill Queen Cersei and shares a dialogue with Sheeran's character.
Arya: "That's a beautiful song. Where did you learn it?" Sheeran's character: "It's new"
The Shape Of You singer took to Instagram to share his look from the premiere episode. The image features Sheeran's character dressed in a typical Lannister Westeros garb, as the caption reads, "Throwback to the time I was a Lannister."
GOT fans took to social media to react to the singer's surprise cameo. A user tweeted, "Only way to justify Ed Sheeran's #GameOfThrones cameo is for him to greet Bran with: "When your legs don't work like they used to before..."
Another wrote, "What the f**k is Ed Sheeran doing in Game of Thrones season 7 premiere?" Another fan has a sick idea of the singer's fate, "Ed Sheeran appearing on game of thrones but not being brutally disemboweled was very disappointing".
A fan imagined a hilarious GOT writing room scene and tweeted, "#GameOfThones writing room: "Ok we're beyond the books, we have creative control" "Concept: Ed Sheeran camping in the woods singing a song'."
"Arya telling Ed Sheeran that she's gonna kill the queen. She's thinking out loud," commented another user.
Check out some of the hilarious tweets below:
© Copyright IBTimes 2023. All rights reserved.