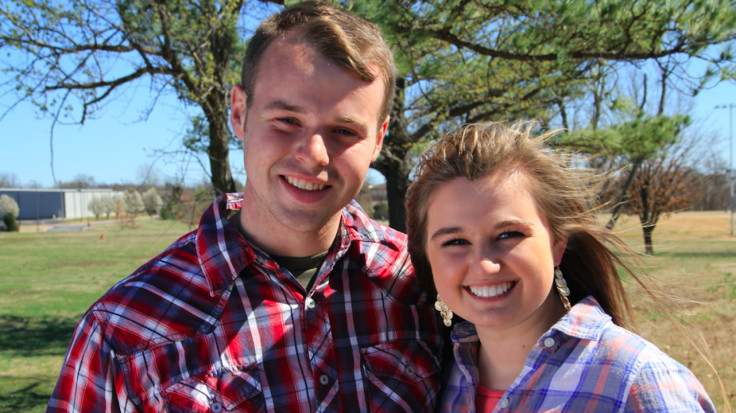 Jim Bob and Michelle Duggar are set to welcome another grandchild in 2018 as their son Joseph is expecting his first child with wife Kendra Duggar. The couple got married in September this year at the First Baptist Church in Siloam Springs, Arkansas.
The 22-year-old Counting On star and his 19-year-old wife announced the "exciting" news via a video on the official website of their family. "I've always dreamed of having my own family and it's really just kind of surreal that it's actually here," Joseph says in the video. "I kind of think it's going to be a boy, but either way, I'm happy just to have a baby."
"I think it could be a girl. You never know!" adds Kendra as Joseph expects the baby to get his wife's smile. "During this season that we are celebrating the birth of Christ, we are so excited to share with you that we are expecting the gift of a child ourselves!" the couple told Us Weekly. "Wow, it's so exciting!!! We've both always loved children and seen them as a real blessing from God. It's so surreal to think of being parents and having our own little one. We cannot wait to see this new baby!"
The couple started courting in March this year and later the Duggar son proposed her during his sister Joy-Anna's wedding in May. The Duggar family is infamous for their stringent family rules which include only side hugging till engagement while kissing is permissible only after the wedding.
Then family patriarch, Jim Bob is notorious for letting his daughters marry at a young age of just 18 or 19. As part of their firm religious beliefs, the evangelical Christian family does not approve of birth control measures resulting in pregnancy soon after marriages.
19-year-old Joy, the fifth daughter of the Duggar family, is also pregnant with her first baby with husband Austin Forsyth. However, fans of the TLC show Counting On are not very welcoming to the recent baby news and are venting their anger on social media. "Is there going to come to a point when people get bored with this? 10 years down the road am I still going to be reading Duggar pregnancy announcements," said one fan of the TLC docu-series.
"When will these people realize getting pregnant has nothing to do with god and everything to do with how the body works. If you're fertile and not using protection, you will get knocked up! Nothing to do with god" added another.
A third one wrote: "This poor girl is a baby, only 19 years old. And in a matter of 3 months, she has gone from a virginal teenager who never even kissed a boy to a wife and now expectant mother. I don't understand why Duggar women aren't given time to adjust to married life and the change of being a sexually active woman."
Many applauded the family's rebel girl Jinger for still enjoying her married life with husband Jeremy in Texas. "At least Jinger and Jeremy are smart enough to wait and get to know each other and live as husband and wife for a while before bringing a baby into the mix. At least someone wants to live life their own way and not the way they were brainwashed into."