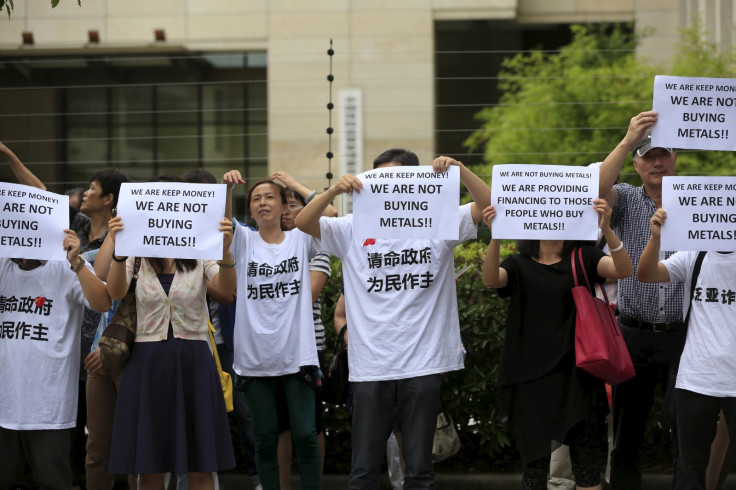 Thousands of people affected by one of China's biggest financial scams are starting to use virtual private networks (VPN) to bypass the Great Firewall of China in order to spread word of their plight to outside media over social networks like Twitter and Facebook. In April 2015, the FanYa Metal Exchange, a rare metals trading platform-turned-asset manager that has partnerships with many of China's biggest banks and metal companies, suddenly suspended trading and froze all its members' accounts after running into liquidation problems.
About 220,000 people invested their life savings into the platform and their funds have been frozen, but the Chinese government doesn't seem to have taken much official action to get their money back, and the regulators have remained silent.
In total, the investors might have lost as much as $6bn (£4.1bn). They have been protesting outside public buildings and banking regulators across China in places like Shanghai, Yunnan and Kunming since September 2015, and although the protests eventually led to the Kunming police starting an investigation in December 2015 and finally arresting the head of FanYa in January, nothing has been done to help the victims get their money back.
Instead, some investors have been arrested for protesting in Beijing, so the victims have now turned to the internet, using VPNs to bypass the infamous Great Firewall to tweet their plight to the outside world.
Learning how to use VPNs and Twitter
According to Quartz, hundreds of victims have been gathering on a group on WeChat, Tencent's free Chinese messaging and calling app, to read a step-by-step tutorial set up by Cong, 30, a state bank employee in Shanghai, on how to download VPNs for Android and iOS mobile devices.
Over half of the victims are middle-aged, do not use the internet regularly and most have never used Twitter, but through the tutorials posted on WeChat, they are learning how to access Twitter, copying a template of English tweets written by those who understand the language, and flooding Twitter with tweets asking everyone from the United Nations, to President Barack Obama, to media vehicles like the BBC, New York Times, Wired and National Geographic for help.
Some of the tweets are in Chinese or have been translated to English using online translation tools, so the grammar isn't great, but the messages indicate a great sense of urgency from the victims, who send their own messages and retweet messages from other users to gain traction on the social network.
One Twitter account, @554013604a, has a profile picture that says "Help!" and features a Chinese woman who is being gagged. The account has made 430 tweets since it was started on 12 May, with posts like: "Patriotic party but was cheated by the government letter, discretion!" and "Yunnan province cheating us. HELP!" plus "The biggest financial fraud!" and "The Attention Please!" and the simple: "We need help!"
Cong says that prior to using VPNs to access Twitter and the outside, she and many of the other victims had no idea that Chinese citizens' civil rights were being cracked down on every day by their government in Beijing.
Prior to being affected by the scam, the investors, like most people in China, were content to believe what their state-sponsored media told them and didn't think much about democracy or freedom of speech.
Now the victims continue to wait for international media vehicles to pick up their story and help them embarrass the Chinese government into taking action and giving them justice.