There were farcical scenes in Kiev on Tuesday and Wednesday (5 and 6 December) as former Georgian president Mikheil Saakashvili continued a surreal hide-and-seek game with Ukrainian police.
Tuesday's standoff began when officers of Ukraine's Security Service, the SBU, went to Saakashvili's home in Kiev to detain him. Trying to resist the arrest, he climbed onto the roof and threatened to jump off, but SBU agents took him down and put him into a van.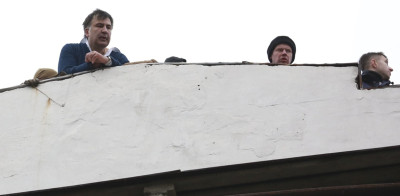 Several hundred protesters then surrounded the vehicle and blocked it from moving. They clashed with police, who unsuccessfully tried to disperse the demonstrators with tear gas. After a tense standoff that lasted for hours, Saakashvili was freed by his supporters.
He led them on a march to parliament to demand President Petro Poroshenko's resignation. "I will die for Ukraine," Saakashvili shouted to the crowd. "I owe you my freedom and my life." With the yellow-and-blue Ukrainian flag around his neck, Saakashvili urged Ukrainians to rise against "Poroshenko and his gang."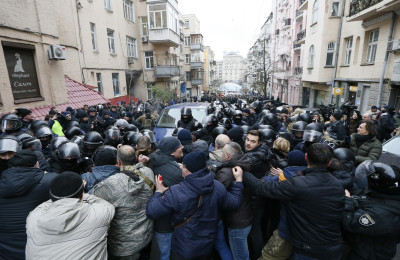 The drama continued on Wednesday morning as police went looking for Saakashvili at a tent camp outside the parliament building in Kiev. They came away empty-handed. Saakashvili popped up soon after they left and said police had searched the wrong tent at the camp.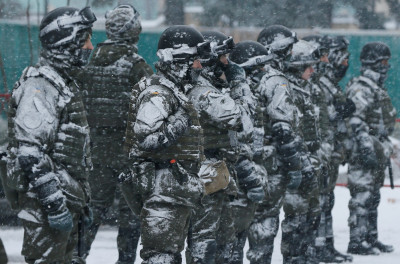 The efforts to detain Saakashvili, now an opposition leader in his adopted country, have raised fears that Ukraine could be facing its most acute political crisis since the 2014 revolution. Saakashvili has won broad popularity in Ukraine with his fiery campaign against official corruption. He has staged a series of rallies calling for the president's resignation, but they haven't produced any visible impact.
Poroshenko's office said prosecutors have evidence to back up claims that Saakashvili has received financing from criminals linked to former president Viktor Yanukovich who planned to overthrow the current government. Saakashvili received Ukrainian citizenship when he reinvented himself as a Ukrainian politician but was stripped of it by Poroshenko in July while abroad and is now stateless.