Faryal Makhdoom goes make-up free in Instagram clip after reuniting with husband Amir Khan
Latest post comes as it was reported that Khan had taken their £1.6m Bolton home off the market.
Faryal Makhdoom is continuing with her commercial work as she settles back into married life n with husband Amir Khan.
Ahead of her British boxer husband's debut on I'm A Celebrity...Get Me Out Of Here! this weekend, 26-year-old Makhdoom shared a presumably sponsored clip for a hair oil without citing it was an ad.
Turning the comments off for the post, pregnant Makhdoom captioned it: "For excellent natural hair care esp to stop hair loss,
Increase Thickness, growth, gloss and repairs any damage to hair. Conquer your hair with Anne's hair oils
www.annebeauty.ltd.uk
@annesoils".
The clip shows the mother-of-one holding up the hair oil before working it into her damp raven locks, appearing to wear very minimal make-up and a comfy grey rollneck sweater. She sits in front of a large velvet purple sofa for the video, which could have been taken by Khan in their £1.6m Bolton family home.
Makhdoom may have turned the comments off for her latest post due to receiving thousands of comments about her relationship with Khan on her Instagram pictures.
Her latest post comes as it was reported yesterday that Khan has taken the marital mansion off the market he shares with his wife and daughter Lamaisah as the couple reunite.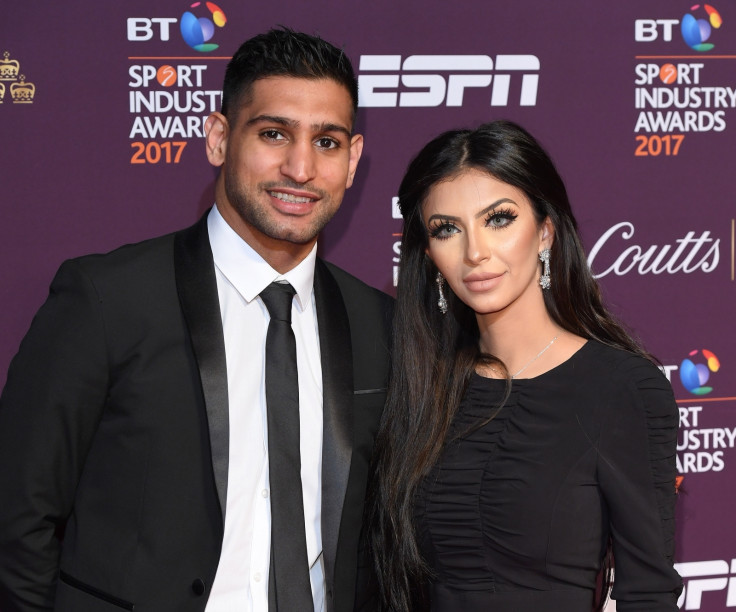 Amir Khan and Faryal Makhdoom attend the BT Sport Industry Awards at Battersea Evolution on April 27, 2017 in London, England
Getty
The luxurious glass-fronted 3,500 square foot property comes with modern granite kitchen, six bedrooms and a separate four bedroom, four bathroom bungalow. It also boasts an indoor swimming pool and home gym, and was put up for sale in June amid a family feud.
Makhdoom had accused her in-laws of years of mental and physical bullying and his family accused her of being a gold digger.
In August, the couple became embroiled in a bitter public row after Khan sensationally claimed his partner had enjoyed a secret rendezvous with fellow boxer Anthony Joshua. Khan also announced their divorce on Twitter and has been sighted with other women, but the couple have put their differences aside for the sake of their marriage.
Over the weekend, just one week ahead of his stint on ITV show I'm A Celeb, Khan announced that he was back together with Makhdoom in a cosy shot of the pair cuddled up on the sofa.
He told his 1m Instagram followers: "With my 4 month pregnant wife, after sorting out all the issues. Closing the year with a happy ending @faryalmakhdoom".