Who is Faryal Makhdoom, the wife of boxer Amir Khan accused of cheating with Anthony Joshua?
The model and make-up artist and sportsman tied the knot in 2013.
Amir Khan's wife Faryal Makhdoom is back in the news after he announced the collapse of their marriage while accusing her of having an affair with fellow boxer, Anthony Joshua.
The 26-year-old model and makeup artist first sent shockwaves through the Asian community last year when she took to Snapchat to make allegations of bullying against her in-laws. In screenshots shared by the 23-year-old she alleged that her husband had gone above and beyond for his family but "jealousy" prevented them from fully embracing her as his wife.
"Don't get your sons married if you're going to abuse and bully the wife. I've always been so quiet but seriously, this message is for everyone! When you bring someone's daughter, treat her as your own. Your son will be much happier and so will you."
Although her decision to go public with the domestic dispute triggered accusations of "airing her dirty laundry", the avid social media user was also described as brave for speaking out.
"Damn! The amount of love and support I get from you guys in unbelievable," she told her 100k Twitter followers. " Thanks a lot❤️ I love you guys x".
Makhdoom has now been rocked by allegations that her husband has had a sex tape, allegedly showing him committing a sex act on Skype, leaked to a leading US porn site.
Before her online outpouring little was known of the Pakistani-American other than the fact that she married the British boxer back in 2013.
Makhdoom was introduced to Khan through a mutual friend after graduating from Rutgers University School Of Arts & Sciences with a double major in political science and journalism. The couple, who tied the knot in front of a thousand celebrity guests at the Waldorf Astoria in New York City, have a two-year-old daughter Lamisah.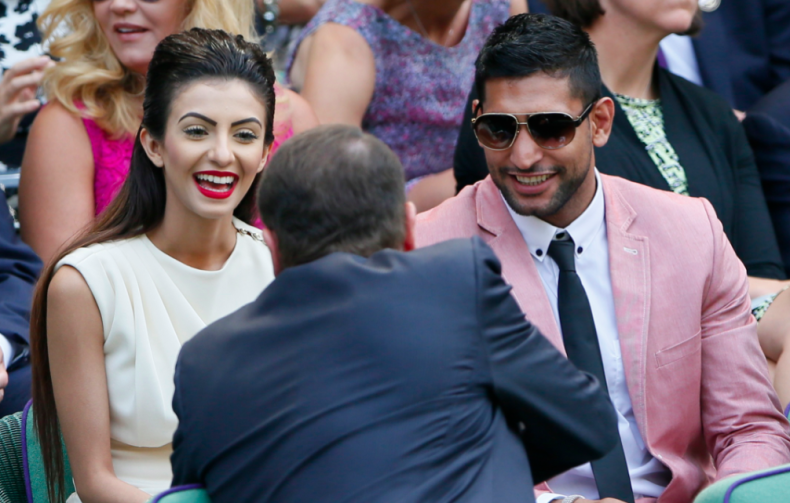 Born in Brooklyn, New York to a Pakistani family, she proudly gives her nod to her heritage with her outfit choices and aesthetic. She previously revealed her secret to looking good is drinking lots of water and exfoliating her skin at least twice a week.
Although the makeup artist describes herself as "Mommy, Wife to Olympic Medalist & 2x World Boxing Champion Amir Khan" in her Twitter bio", she is also a businesswoman. Her timeline is littered with stunning selfies and she also uses the platform to promote her make-up line Faryal Makhdoom Cosmetics.
The 5ft 3in tall style icon also regularly shares make-up tips on her YouTube lifestyle channel which boasts almost 120k subscribers. Her most popular video 'Simple Steps to Highlight & Contour' has 1,743,396 views and counting.