A German man has been arrested by the Spanish Civil Guard on suspicion of starting a huge forest fire on the Canary Island of La Palma. According to local publication Diario de Avisos, the 27-year-old admitted authorities that he had burned toilet paper after defecating in the forest, which is suspected to have caused the fire.
A 54-year-old firefighter was killed while attempting to battle the flames on 4 August and more than 700 people were evacuated from the town of El Paso and the region around the north of the Canary Island.
The fire was declared at lunchtime on 3 August in the Mountain Jedey municipality of La Palma.
In addition to the 100 local firefighters tackling the flames, 67 firefighters and 32 vehicles were sent from the mainland and neighbouring islands on the morning of 4 August. Among the equipment sent in to help tackle the flames were water-dropping planes.
The Canary Islands government has also issued guidelines informing the public on how to behave in the event of the forest fire. Among the set of advice issued was a warning to the public not to attempt to run to the top of a mountain, warning that fires advice up to 17 times faster than humans.
A government spokeperson said: "If the situation becomes dangerous, lie on the floor and try to breathe through a wet garment. If you're surrounded by fire, try to reach the already burned area by walking away from the direction of the wind."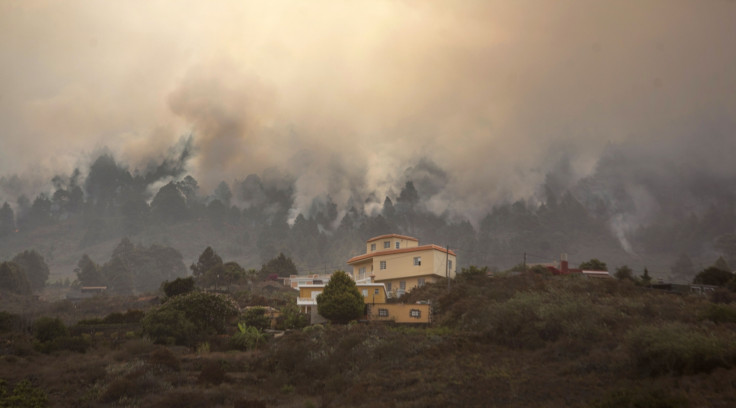 Many took to Twitter to post images of the forest fire, which could be seen from huge distances away. On 3 August evening, as firefighters continued to fight the blaze, many posted images of the sky lighting up in red due to the intensity of the flames. Thick smoke has also filled the air above the region.
Meanwhile, others commented on social media about the recklessness of the tourist who is suspected to have caused the fire. Some have suggested that the man might have been drinking at the time.
Twitter user @mellubo1 said: "What a shame! A 27-[year]-old German (on drugs? On alcohol...) is said to have caused the fire on La Palma by burning papel."