It's possible to forget that the Fast And Furious films were once about fast cars and street races when you watch the first trailer for the eighth instalment in the franchise, which released on 11 December. We have seen the films take on a darker element over time but Fate Of The Furious looks to be the most violent yet.
The video starts off with a wrecking ball smashing through a series of cars as Dominic Toretto (Vin Diesel), Luke Hobbs (Dwayne Johnson), Letty Ortiz (Michelle Rodriguez), Roman Pearce (Tyrese Gibson), Tej Parker (Ludacris) and Ramsey (Nathalie Emmanuel) make their getaway.
Things immediately take a turn for the unimaginable when Dom decides to betray his "family" and lands Hobbs in prison.
"Did you ever think you'd betray your family the way you did today?" super-terrorist and the film's villainess Cipher (Charlize Theron) asks him at one point. So we know he goes to the dark side in the movie but there is no hint to the reason behind it.
It is about time we talk about Cipher instead. Theron's character was touted to be the most evil baddie the series has ever had but it is hard to associate her as "the definition of high-tech terrorism" what with her dread-like braids and ninja pants.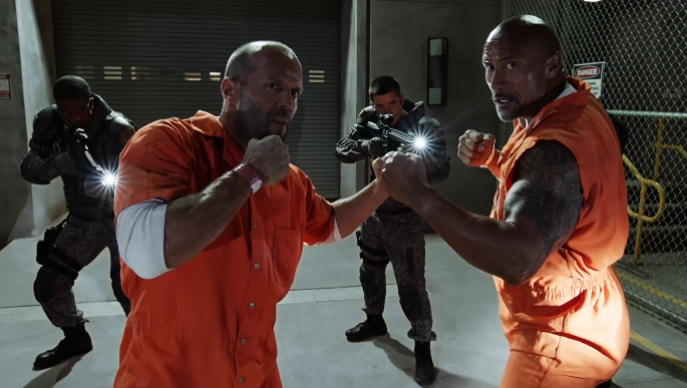 In the trailer, we see Deckard Shaw (Jason Statham) joining Hobbs and the team to help capture Dom. Cue the flashy cars, bullet-proof tanks, ski-bikes and super fast submarine. The scene shifts between the sunny beaches of Cuba and a frozen ice-land that is the Barents Sea, but the chaos and massive amount of gunfire is constant.
What is more surprising than a sub chasing after a bunch of super cars is probably the final scene in the video, which shows Cipher and Dom kissing in front of Letty... though, truth be told, he does not seem to be happy about it.
The film is expected to hit cinemas on 14 April, 2016.
Watch the complete trailer for Fate Of The Furious below: