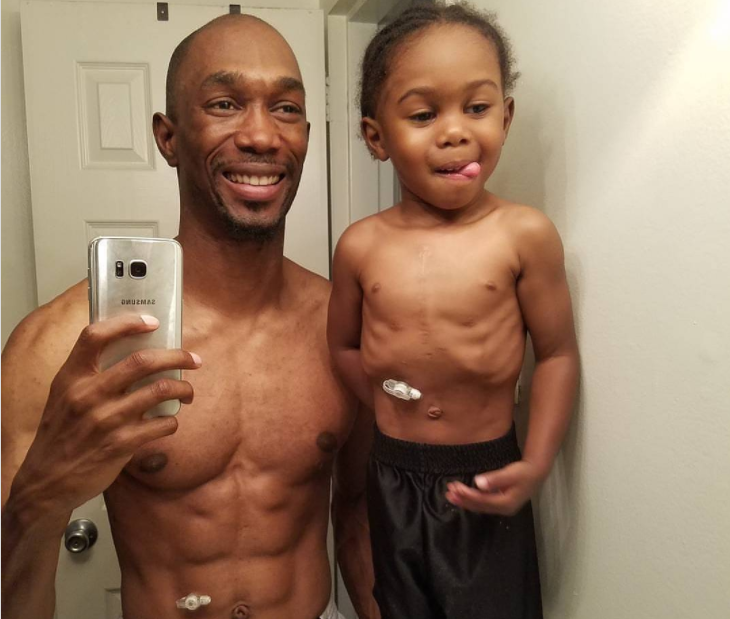 A topless selfie by a Virginia father and his young son has broken hearts around the world.
Yes, Robert Selby has enviable abs and his son Chase is adorable – but that's not the only reason their bathroom mirror pose has been shared hundreds of thousands of times.
Chase, 3, was born with a rare congenital heart condition and requires a feeding tube, which is attached to his stomach because he cannot always eat orally.
So what better way for his dad to show support than by improvising his own gastronomy tube, or "G-tube", and gluing it to his body so that the duo are the same.
"Last year he asked me, 'Why do I have a G-tube?' and I told him it's because he's so strong, because he's Superman. He's Super Chace," Robert told Today.com.
"I told him he's stronger than Daddy, and he said, 'But you're Super Dad,' so I said 'OK', and I put a G-tube on me, too."
Chase weighed just five pounds when he was born with Tetralogy of Fallot, a heart condition that affects around five in 10,000 babies. He has a long scar running down his chest as a result of two open heart surgeries.
His G-tube ensures he gets enough calories and nutrients every day, but Robert insists that there is nothing his son can't do.
"He doesn't know about his condition because I don't treat him like he has a condition," the proud father said.
"I tell him he can do anything anybody else can do. Sports, gymnastics, anything. I tell him to never say you can't."
Robert has set up a special Instagram account, The Life of Chase Elijah, to document his remarkable boy's progress.
The bathroom selfie has so far proved the most popular image: it was 'liked' more than 118,000 times after being picked up by Miracles and Messes, an account devoted to inspirational people.
"As long as I'm breathing, I'll always support my son and he'll never be in a fight alone," Robert wrote underneath the image.