Father of UK woman fighting Isis in Syria says she is 'passionate' about injustice
Kimberley Taylor of Blackburn is first known British woman to join fight against jihadists.
The father of a woman fighting Islamic State in Syria has spoken of his pride in his daughter who he described as being passionate about fighting injustice.
Kimberley Taylor, from Blackburn, is the first known British woman to travel to Syria to join the fight against Isis in the country.
Sent to the Rojava autonomous region in northern Syria to write an article in March, she was moved by what she saw and decided to remain there and join the Kurdish Women's Protection Unit (YPJ), the Guardian reported.
Her father, Philip Taylor, 56 a former teacher, told the BBC that while he is "worried about her beyond belief" he understands her need to take such drastic action.
"People will wonder what sort of person does that, and what the parents think about it," Taylor said.
"Kimberley knows her own mind. She is clever, down to earth and worldly. She has embraced many life experiences and that journey ultimately took her to Syria and the plight of the people there".
"I am certainly not advocating the measures Kimmie has chosen," he added. "I told her that we need people like her in this country, that the UK would be a great place to influence change around the world, but unfortunately she doesn't agree".
The 27-year-old Kimberley speaks fluent Kurdish and studied regional politics, weaponry and battlefield tactics at the YPJ's military academy for 11 months.
Since March, she has been involved in battles to regain control of the Isis stronghold of Raqqa. One of her compatriots, 20-year-old former chef Ryan Lock, lost his life in December while fighting militants near the city with the Kurdish People's Protection Units.
Kimberley has no misapprehensions about the dangers she faces in the conflict zone. "I'm willing to give my life for this," she said.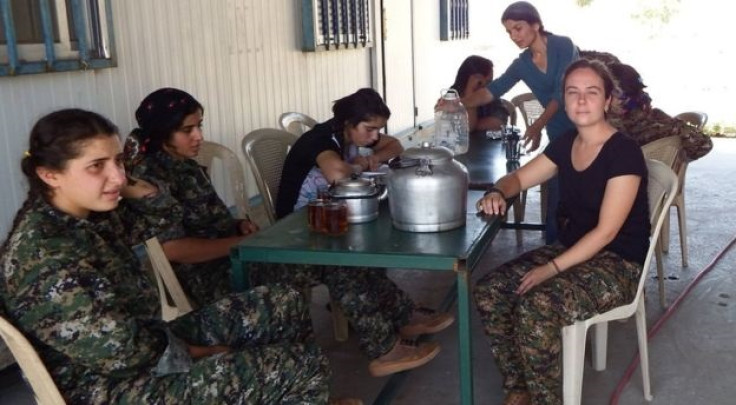 She did not tell her parentsof her plans to join the war but described them as "the most supportive people in my life".
Her father said that her desire to help others was characteristic of her. "I think you have to be there and see for yourself the lives of others before you really understand," he said. "This is where Kimmie is right now. She is passionate about the injustices of this world.
"The suffering of these people doesn't touch our relatively cosy lives and we wonder why anyone would want to go to such lengths and how much difference can one person make anyway. Let somebody else do it. Preferably someone you don't know and love.
"I have never tried to indoctrinate my children in any way whatsoever, preferring to let them grow into themselves," he added.
Taylor is one of the hundreds of foreign volunteers who have joined the Kurdish forces in their fight against the Islamic State in Syria. (YPG). However, British citizens are strongly warned by authorities not to travel to Syria or become involved in the war.
© Copyright IBTimes 2023. All rights reserved.