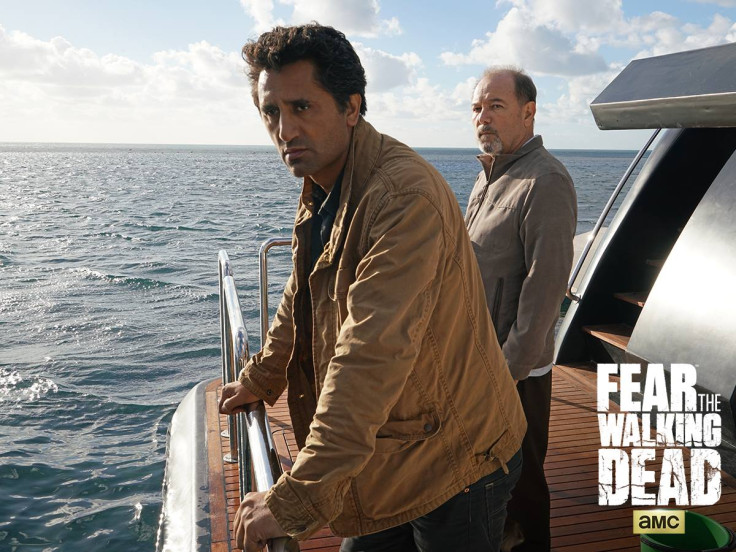 AMC has released a series of teasers for Fear the Walking Dead season 2 and it appears there is no safe sanctuary for Madison, Travis and their extended families. The teaser reveals that herds of flesh-hungry zombies are trying to attack the survivors of the mysterious flu that has now become a pandemic and engulfed entire Los Angeles.
The latest and longest trailer of the Walking Dead companion series hints that Madison will emerge as a strong woman. "To kill the monster, you become the monster... stare to the abyss and the abyss stares back. It is alive, it is hungry and it devours," she tells in the background voiceover. Meantime, fans can see herds of undead walkers attacking Strand's gated estate.
Here is the trailer via IGN:
The lead cast then leaves to board Abigail, Strand's yacht which is moored offshore. But the big questing remains: Is the water safe and can the zombies swim?
From the trailer, it appears the zombies will stay afloat and live in the water as there is a scene where Travis (who has probably abandoned his naive self) is seen recklessly beating a walker who is trying to get over their raft.
The small teaser has surely increased the interest of FTWD fans, who had lots of complains from the first season for being slow and the hero Travis being a weak man. It appears the cast will be in full action mode when they take down the zombies in order to stay safe during the apocalypse.
The official synopsis reads: Season one left off with Madison (Kim Dickens), Travis (Cliff Curtis) and their extended family taking temporary shelter in Strand's (Colman Domingo) gated estate overlooking the Pacific Ocean. As civil unrest continues to grow and the dead take over Los Angeles, Strand prepares to escape to "Abigail," his large yacht moored offshore.
Fear the Walking Dead season 2 will premiere on 11 April (Monday) at 2:00am in the UK — simultaneous to the AMC US premiere — with a repeat later that evening in primetime exclusively for BT customers. The show will be followed by Talking Dead, the lively review show hosted by Chris Hardwick.