After narrating the onset of a zombie apocalypse in a gripping season 1, Fear the Walking Dead will return with season 2 in the UK in April. The filming for the upcoming season has already begun in the Baja peninsula in Mexico at Baja Studios.
Season 1 ended on a tragic note as Travis Manawa had to kill his former wife who was infected by a walker. However, the extended families of Madison and Travis managed to escape the zombies and the army, which was on a mission to kill everyone it thought was infected. The couple, along with Daniel and his daughter, found temporary shelter in mysterious businessman Strand's gated estate overlooking the Pacific Ocean.
The plot synopsis reveals that eventually the undeads and the civil unrest will force the survivors to abandon land and take asylum in Abigail, Strand's yacht moored offshore.
So far, AMC has confirmed the return of the lead cast members, including Kim Dickens as Madison, Cliff Curtis as Travis, Frank Dillane as Nick, Alycia Debnam-Carey as Alicia, Ruben Blades as Daniel, Mercedes Mason as Ofelia, Lorenzo James Henrie as Chris and Colman Domingo as Strand.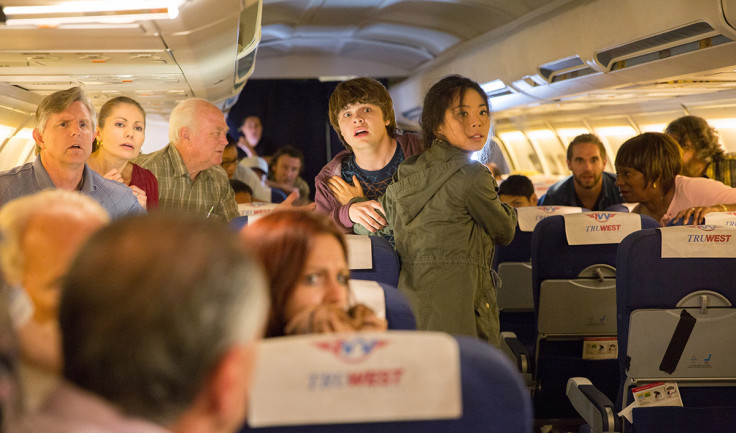 The network is yet to reveal the fate of the passengers of Flight 462, the special web series that airs during a commercial break in each episode of The Walking Dead, from where some characters (or one) will unite with the FTWD leads. The focus of the web series, which is yet to air the remaining eight episodes, is mostly on the teen boy and his mysterious co-passenger, who seems to know more about the fast-spreading infection.
The series has already aired eight episodes during The Walking Dead season 6 and will air the remaining with the rest of the TWD episodes. As of the last episode, one passenger appeared to be infected and the boy's co-passenger asked the crew to tie him up as she had already sensed the looming danger.
It remains to be seen how and which flight member/s will find his/her way to the FTWD leads, who are assuming water as the safest way to stay alive.
Fear the Walking Dead season 2 will premiere on Monday 11 April at 2:00am — simultaneous to the AMC US premiere — with a repeat later that evening in primetime exclusively for BT customers. The show will be followed by Talking Dead, the lively review show hosted by Chris Hardwick.
Watch the first eight episodes of Flight 462 here.