Fear The Walking Dead season 2 trailer: Water is not safe for Travis, Madison and their families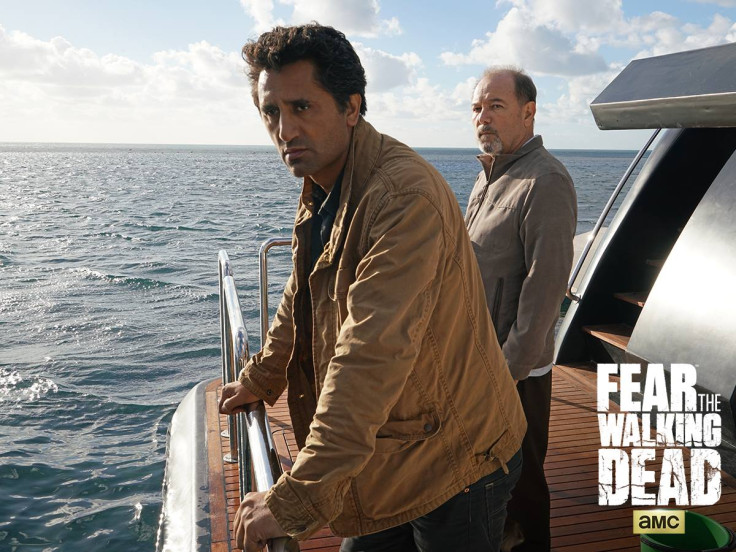 AMC has released another teaser for Fear The Walking Dead season 2 and it appears Travis Manawa, Madison Clark and their families are not safe in their water sanctuary. The Walking Dead companion series is still months away from its premiere but anticipation is high about how the show will move forward, especially after the two teasers were released.
While the first 15-second teaser showcased Travis's upcoming strong character, the second teaser focused on all the characters as they boarded Abigail, Strand's yacht. The teaser hints at deep trouble in the water as one of the frames shows a bunch of people floating on top of what looks like a capsized boat (or a crashed plane?).
The clip also shows Daniel Salazar in action as he prepares to take down the people on the other floating thing with a gun. The previous teaser reveals that "good man" Travis has also realised how grim the situation is and has started taking things into his own hands.
This also means that fans will not complain about the "inactive" hero in FTWD. Not much was shown about the mysterious businessman Strand, but show producers have earlier promised that more will be revealed about him.
FTWD season 1 ended with the lead characters taking temporary shelter in Strand's gated estate. In season 2, they will be forced to board his large yacht Abigail as the virus spreads rapidly leading to herds of zombies overpowering the handful of survivors in Los Angeles.
The teaser also hints at the fate of Flight 462, which appears doomed especially after one infected passenger was identified. The online special series will bring a new character to FTWD season 2 and AMC has chosen to remain silent about it. Two passengers, however, share the camera focus in the one-minute duration online series. But their name and identity are yet to be revealed.
Fear The Walking Dead season 2 will premiere on 10 April.
© Copyright IBTimes 2023. All rights reserved.