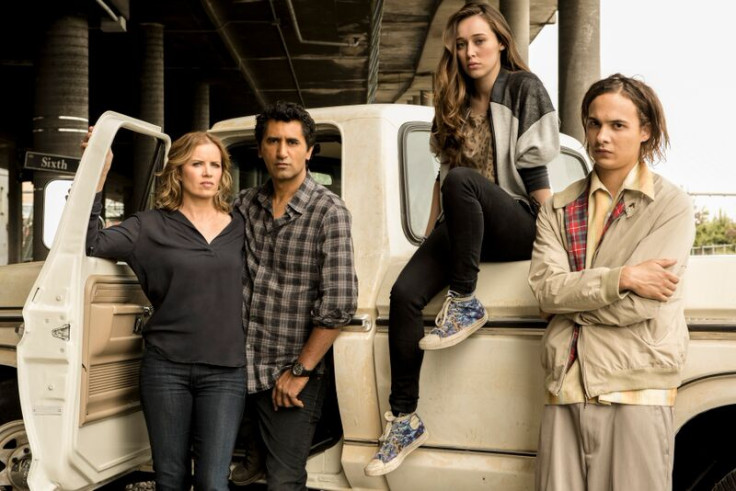 After witnessing the zombie apocalypse and the army's handling of the situation on land in season 1, the next chapter of Fear The Walking Dead will take to the open seas. The series will feature the complex relationship between Travis Manawa and his fiance Madison Clarke in season 2.
Warning: Potential spoilers ahead, proceed at your own risk.
Characters in the upcoming season that will air in 2016, will take refuge on a cruise ship to save themselves from the zombies. In the first season we saw Travis and Madison's relationship on the rocks after the mysterious flu was turning the masses into undeads and the army's approach towards the entire situation. Cliff Curtis, who plays Travis, however, has weighed in on the couple's relationship and hinted that his character will be a changed man.
"Things have changed -- for my character, especially. He does things that he thought he'd never, ever have to do, and he would never be capable of doing. That's going to have an impact on him. I think they do want to hold onto the style of the show, which is in the vein of the slow burn. I don't know how that works, and I haven't seen anything, but not to the [the slow burn] extent of Season 1. It's going to come up a couple of notches," he told Comic Book Resources.
He also teased that the couple will struggle to keep their relationship strong as apart from their family, they are forced to deal with the walkers who are starving for human flesh and blood.
"There's going to be tension, I believe those circumstances have pushed us closer together, and I'm looking forward to that because Season 1, it was actually a really tough relationship. We started off all lovey-dovey, and then we grew further and further apart, until right at the end, we get pushed back together again, emotionally, anyway. I'm really looking forward to us working together as a team a lot more, but I don't know what they're going to give us. They might not deny a couple that satisfaction, but that's what I'm looking forward to -- the potential, anyway," Curtis claimed.
Earlier, in a press statement, AMC said that the lead characters will decide to abandon Los Angeles after it gets swarmed by the undead and with the help of the rich businessman Staran, they will board his yacht Abigail that is moored offshore.