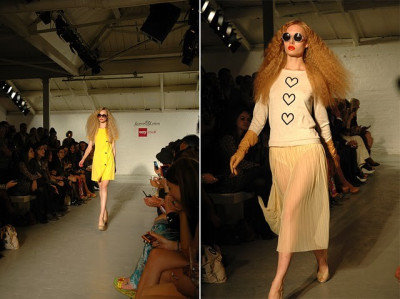 Fearne Cotton was very much the established fashion designer, in two outfit changes as she launched her SS12 collection for online high street fashion store Very.co.uk.
The radio DJ certainly looked the part sporting a much commenting on 20s-style loose perm hairdo as she launched the new collection of her Very clothing line.
Although Cotton has already established clothing lines, she seemed especially nervous about showing this Very collection, perhaps the pressure of London Fashion Week is responsible.
As the show drew closer, nerves started to creep in, as she tweeted: "An hour to go until people start arriving for my fashion show! Ah! Nervous now"
Good job Cotton's best friend and fellow industry worker Holly Willoughby was on hand to support the launch of her latest fashion line for Very.
To open the '70s inspired show Cotton donned a glamorous red lace dress and leopard print platforms.
The collection featured a mix of playful mini dresses, maxi skirts and sheer tops in an array of pastel colours from baby blue to mustard.
Later Fearne changed into a sheer hem lilac maxi, but kept the retro hairstyle which some compared to a past Gwen Stefani.
Pleasingly the Very collection proved to be a unanimous hit, with many faces who attended the show sharing complements.
Fashion designer Whitney Port who was sat front row with Kelly Cutrone praised the collection tweeting its "60s aesthetic, bright orange lips, big sunglasses and frizzy hair were so fun. I loved every minute of it.
TV presenter Myleene Klass tweeted her admiration for Fearne's designs, saying: '@Fearnecotton stirling job tonight Mrs. You should be very proud x'.
Cotton herself seemed relieved and proud tweeting:
"Oh wow. We did it. My fashion show went well and I'm over the moon"