Roger Federer has admitted that doubts about his level of competitiveness did creep in during his time on the sidelines with a knee injury in 2016.
The Swiss ace spent the final six months of the 2016 season out with a knee injury. Federer cut short his season following his semi-final loss at Wimbledon in July last year and only returned to action in January with the Australian Open being his first ranking tournament in over six months.
Apart from the self-doubt, there were also doubts raised by supporters and former players about Federer's ability to get back to winning ways and challenging for top honours after such a lengthy spell out. The 35-year-old admitted that he would not have been as worried if a similar injury had affected him earlier in his career.
"I've never been in that position before," Federer said talking about his six month spell on the sidelines with a knee injury, as quoted by Tennis World USA.
"Because if it happened when I was 22 I would have been like 'even if I am out for two years, I am still young, I'd still be okay'. Time is not really on my side anymore. As years pass by, chances to win against best and to win the best tournaments are slim."
Federer, however, defied the odds and surprised everyone when he reached the finals and went on to win the Australian Open, despite starting the tournament as the 17<sup>th seed and not among the favourites for the title.
The Swiss maestro continued his form as he won the Indian Wells and Miami Masters before taking a 10-week break and skipping the entire clay court season. He is currently 19-1 for the 2017 season with his only loss coming in the second round of the Dubai Tennis Championships. Federer is expected to return to action on Wednesday (14 June) at the Mercedes Cup in Stuttgart.
Rafael Nadal is another player, who has surprised everyone this season, after struggling with injury problems in 2016. The 31-year-old ended his season in October last year and returned in January this year.
Nadal, like Federer has made one of his best starts to a season and has won four of the seven finals he has made since the start of the season including an unprecedented 10<sup>th French Open title on Sunday (11 June). He lost two finals – Australian Open and Miami Masters – to Federer and the Acapulco Open to Sam Querrey.
Federer believes their resurgence is great personally and for the sport, especially after the situation they were in during the opening of the Rafael Nadal Academy in Mallorca in October last year. The Swiss star was the guest of honour, but both players could not get on court to put on an exhibition and had to be content with playing with the kids at the academy.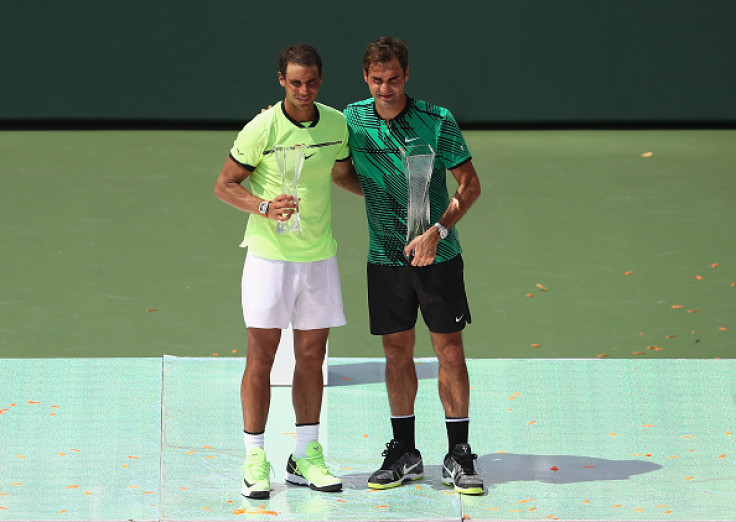 "When I went to visit his academy back in Mallorca in around September we tried to play with kids because there was not much we could do.'I can hit volley, I can move a little bit but I can't do any exhibition with you, sorry'," Federer explained while talking about what he told Nadal during the opening ceremony.
"No problem it's great, I can't do much myself' [was Nadal's reply]. And six months later we are in finals in Australia, Miami, winning Indian Wells, he won Monaco. It's great for us and tennis."