Former Ferguson police officer Darren Wilson reportedly received a standing ovation when he appeared at a law enforcement group's fundraiser in the wake of the Justice Department's decision not to file federal charges against him.
Wilson shot unarmed black teenager Michael Brown on 9 August, 2014, sparking weeks of violent protests in the Missouri town. He is said to have made his first public appearance at a Trivia-night fundraiser for Hunt For Justice, a St Louis based non-profit pro-police organisation.
Wilson is said to have been warmly received at the $25 (£17)-a-head fundraising night on 13 March. There are also reports the fundraiser was for Wilson himself. Wilson, who was told he would not face criminal charges over the shooting, claimed he acted in self-defence after Brown attacked him and attempted to reach for his gun.
He resigned from the force after the state grand jury chose not to prosecute - a decision which once again sparked a night of unrest in Ferguson. Photographs of Wilson appearing at the Hunt for Justice event appeared on the group's social media pages, including a caption of how he "inspired the crowd".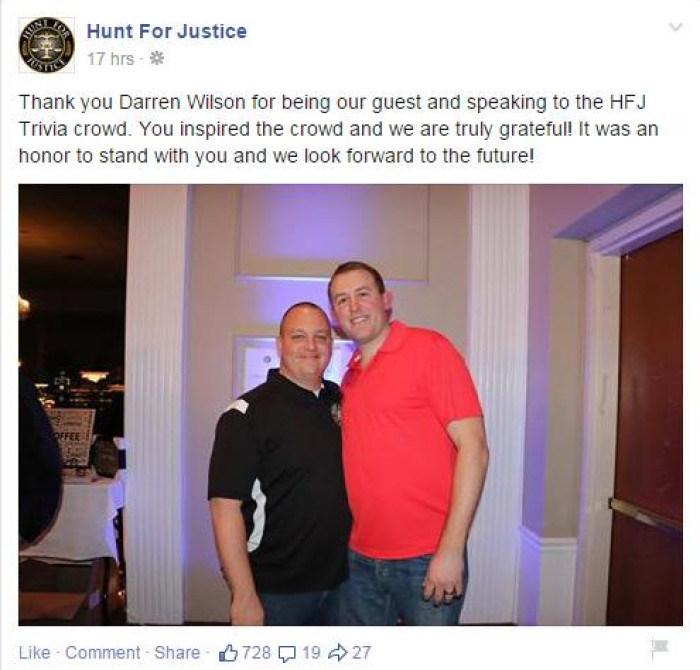 A description of the group's Facebook page reads: "Hunt For Justice is a non-profit entity comprised of volunteers who are motivated to defend and protect law enforcement officers across this great country that selflessly serve all of us day in and day out for undervalued wages. Despite their devotion and work to protect us, unfortunately, there are very real, evil people who desire to falsely claim and charge law enforcement officers while in the process of performing their jobs.
"We are a group that spends countless hours doing research and are involved in the trenches providing help with public relations, marketing, and fundraising to provide an appropriate intrinsic value to the wrongfully accused."