The family of Michael Brown - the 18-year-old whose death caused several weeks of disorder in Ferguson - have confirmed they will sue the officer involved in his shooting.
Lesley McSpadden and Michael Brown Sr said they have filed a lawsuit against Darren Wilson after the Justice Department said no federal civil rights charges will be brought against him for shooting the teenager.
Brown was unarmed as he was shot dead by Wilson in the Missouri town on 9 August. His death sparked protests in the predominately black US town.
"This outcome is supported by the facts we have found – but I also know these findings may not be consistent with some people's expectations," attorney general Eric Holder said.
As well as confirming Wilson will not face federal charges, the Justice Department released a separate report which said there is "substantial evidence of racial bias" in the Ferguson police department.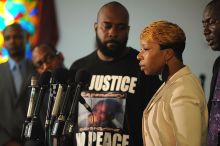 Anthony Gray, a St Louis attorney representing the Brown family, has now said the family of Brown intend to file a wrongful death civil case.
"We are officially in the process of formulating a civil case that we anticipate will be filed very shortly on behalf of the family," Gray said.
"In our case, we plan to show and outline pretty much the same evidence; however, you will get a more clear, a more accurate of what took place that day.
"We feel and we've always felt from the very beginning that officer Darren Wilson did not have to shoot and kill Mike Brown, Jr in broad daylight in the manner that he did, that he had other options available to him."
He added: "And we plan to demonstrate in a court of law to reasonable-minded people that choice to use deadly force was unreasonable and unnecessary under those circumstances."
Wilson, who was already told he would not face criminal charges over the shooting, claimed he acted in self-defence after Brown attacked him and attempted to reach for his gun.
He later resigned from the force after the state grand jury chose not to prosecute Wilson - a decision which once again sparked a night of unrest in Ferguson.
The Department of Justice also released a report which detailed how Ferguson police frequently discriminated black civilians in the area and targeted them with excessive force, including the use of Taser and dogs.
"The overwhelming majority of force – almost 90% – is directed against African Americans," Holder said. "This deeply alarming statistic points to one of the most pernicious aspects of the conduct our investigation uncovered: that these policing practices disproportionately harm African American residents."