Police in Ferguson, Missouri, used tear gas to clear the streets during demonstrations against the fatal police shooting of black Missouri teenager Michael Brown.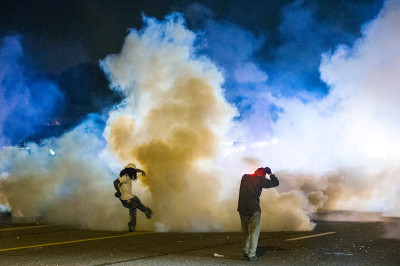 As night fell, a peaceful protest quickly deteriorated after marchers pushed toward one end of a street. The clashes erupted three hours before the midnight curfew imposed by Governor Jay Nixon. Officers in riot gear ordered all the protesters to disperse. Many of the marchers retreated, but a group of about 100 stood defiantly about two blocks away before facing a volley of tear gas.
Authorities said they were responding to reports of gunfire, looting, vandalism and protesters who hurled Molotov cocktails. "Based on the conditions, I had no alternative but to elevate the level of response," said Capt. Ron Johnson of the Missouri Highway Patrol, who is in command in Ferguson. At least two people were wounded in shootings, he said.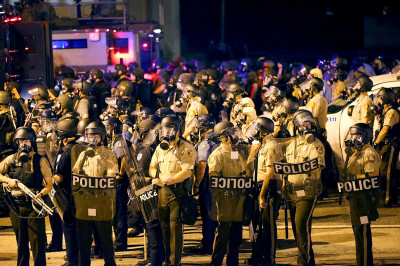 The "extraordinary circumstances" surrounding the death of the 18-year-old Michael Brown prompted the Justice Department's decision to conduct a third autopsy.
A preliminary private autopsy, asked for by Brown's family, shows the teenager was shot at least six times, the New York Times reported. Citing Dr. Michael M Baden, former chief medical examiner for the City of New York, the newspaper reported that Brown was shot twice in the head, and that the bullets that hit him did not appear to have been fired from very close range because no gunpowder was detected on his body. That conclusion could change, however, if gunshot residue is found on Brown's clothing, the newspaper said.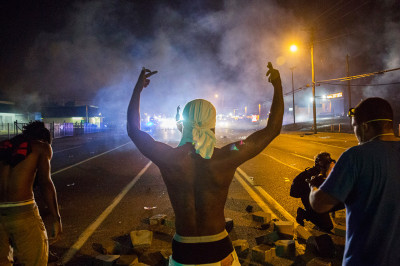 The protests have been going on since Brown's death heightened racial tensions between the predominantly black community and the mostly white Ferguson Police Department. Ferguson police waited six days to publicly reveal the name of the officer and documents alleging Brown robbed a convenience store shortly before he was killed. The officer who shot Brown has been identified as Darren Wilson, a six-year police veteran who had no previous complaints against him.