The anniversary of 18-year-old Michael Brown's death in Ferguson, Missouri, began with a solemn march in his honour and ended in chaotic scenes described as a shoot-out involving two rival gangs and police. One gunman, identified as Tyrone Harris, 18, is in a critical, unstable condition after he was shot at by four plainclothes police officers. The father of Harris told the St Louis Post-Dispatch that his son had been a close friend of Michael Brown.
Shots rang out around 11.15pm as several hundred people gathered on West Florissant Street. St Louis County Police Chief Jon Belmar said that plainclothes officers had been tracking the man, who they believed was armed. Belmar said the man approached the officers, who were in an unmarked police car and opened fire. The officers returned fire from inside the vehicle. They then pursued the man on foot. The chief said the man again fired on the officers and all four fired back.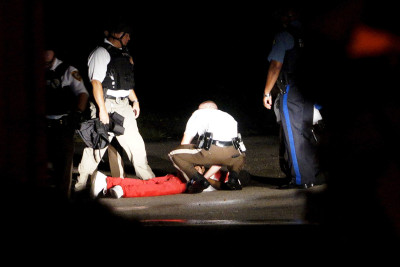 Before the shots were fired, protesters had been blocking traffic and staging demonstrations outside the Ferguson police department. Demonstrators wore T-shirts with likenesses of Brown or messages such as "Please stop killing us" and "Hands up! Don't shoot!" which became a rallying cry during the sometimes violent protests that followed the shooting a year ago. For the first time in three consecutive nights of protests, some officers were dressed in riot gear, including bullet-proof vests and helmets with shields.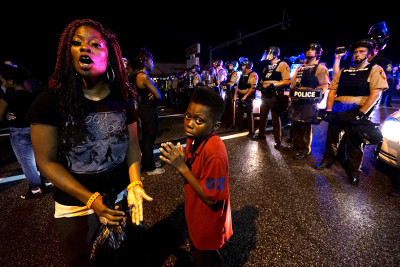 Michael Brown's father led a march in Ferguson after a crowd of hundreds observed four-and-a-half minutes of silence. Those who gathered to commemorate Brown began their silence at 12.02pm, the time he was killed, for a length of time that symbolised the four-and-a-half hours that his body lay in the street after he was killed. Michael Brown Sr held hands with others to lead the march, which started at the site where his son was fatally shot by Ferguson officer Darren Wilson on 9 August 2014.