Ferguson: Tyrone Harris in critical condition after police shoot-out on anniversary of Michael Brown death
Police in St Louis County have said one gunman, identified via social media as Tyrone Harris, 18, is in a critical condition following a shoot-out involving two rival gangs and plain clothes police in Ferguson on the anniversary of Michael Brown's death. In a press conference the St. Louis County Police Chief Jon Belmar told reporters one man was in a critical, unstable condition and was now undergoing surgery after he was shot at by four plain clothes police.
Police said he opened fire on four specialist officers as he fled a gang shoot-out on Florrison West, the main street in Ferguson. The officers then returned fire after he shot "right at the grill of the car" which was unmarked but illuminated by blue and red flashing lights. Belmar described the shooting as "a tragedy for the family of this man and the officers involved."
St Louis County were called to the scene at Florrison West to deal with looting which had taken place at a number of local businesses over-night in Fergusson, police said. The town centre was still packed with protesters and bystanders following a day of events commemorating the death of Michael Brown one year ago.
Marked police cars were hit with bricks and bottles when they attempted to control the looters. Officers in unmarked cars were monitoring three to four individuals they believed to be armed. A stolen 9mm handgun was recovered from the scene after police exchanged fire.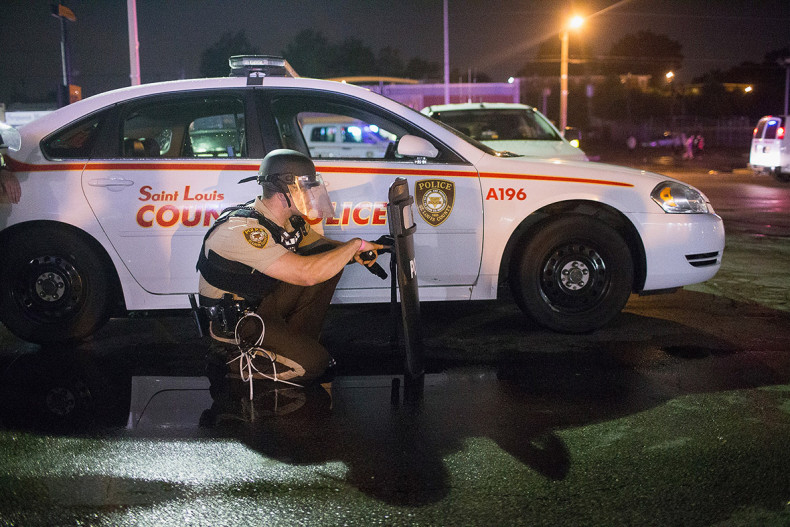 The shooting of Harris took place during an exchange of fire between two groups who police described as "criminals not protesters". Belmar said "several shots rang out" over 40 to 50 seconds.
Details surrounding the shooting are still emerging. There is believed to have been a second series of shots fired at the scene and possibly further injuries. However, Belmar described rumours as "less than reliable"
The four police involved in the shooting have been placed on administrative leave for psychological evaluation following the shooting and an investigation. St Louis County Police refused to comment on the race of the police officers involved.
Following the night's events, police have appealed for more information on the shoot-out between rival gangs. Police Chief Belmar said: "There is a group of people out there who are intent that we do not have peace that prevails." He added that the community was unable to sustain the current situation which he described as untenable.
Ferguson has been blighted by the 9 August 2014 shooting of Michael Brown in the 12 months since the incident, with the town becoming a flash point for race relations protests in the United States. The disputed circumstances of the shooting along with the protest following the incident received global attention and caused a vigorous debate about the police authority's relationship with African Americans, particularly males.