Ferguson Protests: Police 'To Wear Vest Cameras' In Wake of Michael Brown Shooting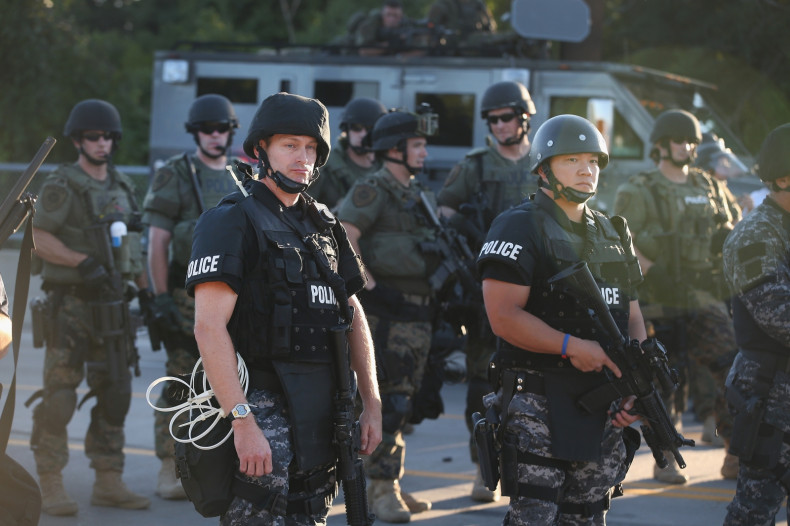 Ferguson Police have announced they are considering making all their officers wear cameras on their vests in a bid to "build upon our many existing community relationships".
Following days of protests and unrest in the Missouri town in the wake of the killing of unarmed black teenager Michael Brown, Ferguson's police department has announced a range of actions as part of the "healing" process in the area.
Tensions between residents and police have erupted since the killing of Brown by officer Darren Wilson on 9 August. Ferguson police were heavily criticised for their attempts to control the disorder, including use of tear gas and military equipment.
Missouri governor Jay Nixon announced he took the department "out of the situation" in the middle of the ongoing protests and replaced them with the National Guard.
There have been conflicting statements about the lead-up to the shooting of Brown. Some eyewitnesses claim the officer fired after Brown attacked him, while others said Brown had his hands in the air in surrender.
In a statement, seen by The Wire, the department announced how they plan to "learn from this tragedy" following a second week of "discord and heartbreak".
"We are exploring a range of actions that are intended for the community to feel more connected to and demonstrate the transparency of our city departments," the statement said.
"[These include] commitment to raise funds and secure dash and vest cams for our patrol cars".
The police department also promised to support programmes which "increase [the] number of African American applications to the law enforcement academy and to our neighbouring communities' police department".
Currently, there are only three black police officers in the Ferguson Police Department, while more than two-thirds of the town's 21,000 residents are African-American.
Officers in Rialto, California, already wear cameras similar to those proposed by the Ferguson Police Department. According to the Wall Street Journal, since vest cameras were introduced, citizen complaints against officers fell from 24 to three in the first year, and police reported that use-of-force incidents dropped from 61 to 25.
The Rialto police chief explained: "When you talk about putting a camera on somebody, human nature is going to dictate that you're going to mind your p's and q's and you're going to be on the best behaviour. At the same time, I think it's had an impact on citizens. If they know you're wearing a camera, they too will be on their best behaviour."
Earlier this year, Britain's Metropolitan Police also piloted the wearing of tiny body cameras to record evidence if needed. The scheme was launched in the wake of the shooting of Mark Duggan in August 2011.
Around 500 devices were issued across London's 10 boroughs and shared among the Met's 31,000 officers.