US police in Ferguson have been criticised by senior politicians for using heavy-handed military tactics to control demonstrators protesting against the killing of Michael Brown – an unarmed black teenager who was shot dead by a white police officer.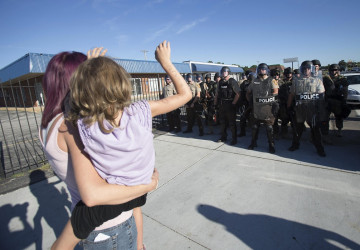 Ferguson, a city in St. Louis County, Missouri, has seen days of demonstrations after the shooting of 18 year-old Michael Brown.
Officers from the Ferguson City Police Department and the Ferguson County Police were deployed on the streets of Ferguson to control the crowds who have gathered since the shooting took place on Saturday to protest.
It has been revealed that the chiefs of both police departments have travelled to Israel for training, to learn tactics and strategies on security, intelligence and counterterrorism.
Both police departments used former military vehicles, equipment and riot gear to quell protestors.
Several US politicians spoke out about the police response on Twitter after members of the public, journalists were tear-gassed.
Missouri senator Maria Chappelle-Nadal was caught in a tear gas cloud during a peaceful protest.
"We were in that neighbourhood and we were tear-gassed," she said. "I could not breathe, I could not speak, I could not focus, I could not think, because I thought that I was going to die, because we were shot at and tear gas was constantly thrown at us and the police officers."
She continued: "I'm the senator for the area, and I felt threatened. Everyone felt threatened."
Ms Chapelle-Nadal later challenged Ferguson police chief Thomas Jackson at a press conference, but said Jackson's response was "bullshit".
"He blew me off," she added.
Missouri Governor Jay Nixon has now transferred the responsibility for crowd control to the Missouri State Highway Patrol, who have adopted much less confrontational tactics since assuming control on Thursday.
Shooting Officer Named
The officer who shot Brown was named on Friday as Darren Wilson. He has been placed on paid administrative leave since the shooting, and moved to a secure location.
The naming of the officer was overshadowed by the release of CCTV footage of an alleged robbery in a shop in the area.
Ferguson County Police claimed the video showed Michael Brown stealing a $50 box of cigars.
Chief Jackson said Officer Wilson did not know that Brown was a robbery suspect, and "the initial contact between the officer and Michael Brown was not related to the robbery".
He added the reason for the stop was that Mr Brown "was walking down the middle of the street stopping traffic".
The family's lawyer, Benjamin Crump, criticised the timing of the video's release and accused the Ferguson Police of a "brutal assassination" of Brown's character.
Crump released a statement on behalf of the family, saying: "There is nothing based on the facts that have been placed before us that can justify the execution style murder of their child by this police officer as he held his hands up."