Mercedes' Lewis Hamilton finished on top of the timesheets after the first practice session for the 2013 Formula 1 Italian Grand Prix. The 2008 world champion clocked 1:25.565 to place his car ahead of the Ferrari of Fernando Alonso and his team mate, Nico Rosberg.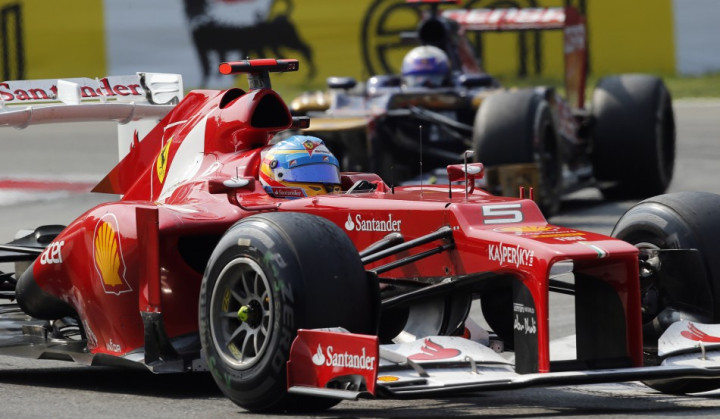 Alonso, driving in Ferrari's home race, was only just behind Hamilton, who is clearly the man to beat in qualifying sessions this season. The double world champion posted 1:25.600. The British driver has taken pole position in each of the last four races and while the old adage of "there are no points for pole may hold true", the significance of starting at the head of the order at Monza is obvious - the fastest car over one lap will always have an advantage on Sunday's race.
However, race pace is often a very different kettle of fish from outright qualifying pace, as Ferrari have so ably demonstrated this season. Defending world champion Sebastian Vettel, therefore, will be cautiously optimistic of an excellent result on Sunday afternoon, as will Alonso... at least on this showing.
Vettel posted 1:25.753 and was narrowly beaten to third by Rosberg, who clocked 1:25.704. Lotus-Renault's Kimi Raikkonen continues to hover in and around the top five (he was fifth in this session with 1:25.941) and consistency in qualifying and on Sundays is the major reason why the Finn remains in the hunt for the 2013 championship. However, the former Ferrari champion will be aware that he must start winning races if he is to haul in Vettel, Alonso and Hamilton at the top of the table.
The McLarens enjoyed a reasonable start to the Italian Grand Prix, with Jenson Button and Sergio Perez at the very sharp end in the early part of the session. Of course, as Ferrari, Mercedes and Red Bull started posting their times the Woking-based outfit slipped down the table.
Nevertheless, sixth and seventh is an excellent start to the weekend, particularly since Button (seventh) was faster than the second Red Bull of Mark Webber: 1:26.035 to 1:26.103.
Pastor Maldonado and Jean-Eric Vergne rounded out the top ten, with the Williams driver posting 1:26.149 to the Frenchman's 1:26.155.
All in all, the opening practice session has been remarkably close, with the top ten split by six-tenths of a second. This is unlikely to be the case in the afternoon session, as more rubber is laid down on the track and the front runners switch into attack mode.
For the full timesheet and lap details, click here.
For information on where and how to watch the second practice session live, click here.