Ferry services between Dover and Calais have been disrupted today (Sunday 7 June) following the discovery of two huge unexploded bombs on a beach bear Calais port during construction work last month.
The bombs, each weighing some 227kg, were dropped by British planes during the Second World War. One was booby-trapped in a bid to kill bomb disposal teams and cannot be moved.
Police estimat that if the bombs exploded they could pose a danger up to 1.5km away, meaning the port of Calais itself would be at risk.
UK Border Force and French Border Control booths had to close for around seven hours. Ferry services from Calais were stopped temporarily and drivers were diverted 40km along the coast to Dunkirk. Ferries towards Calais from Dover continued as normal.
Both bombs are being defused by French Navy divers.
MyFerryLink said two ferries were cancelled, one travelling in each direction, and others may be subject to delay or cancellation.
P&O ferries has advised day-trippers not to travel on the affected route and said all those affected could rebook free of charge.
A Port of Dover spokesman said: "The ferries are operating as normal and there is no disruption at Dover.
"Some traffic is being held at Calais and we are sorry for any inconvenience caused by reasons outside of our control."
The bombs were uncovered during major reconstruction work to increase capacity and improve security and infrastructure at the Port of Calais, which also has to deal with migrants attempting to reach Britain by sneaking aboard lorries and cars.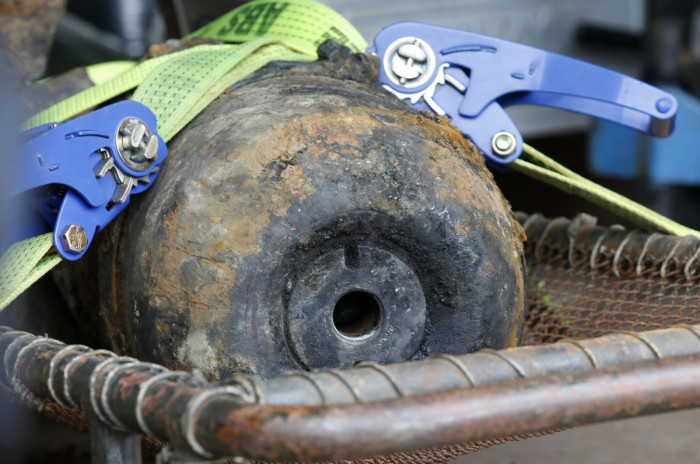 Bombs dropped by all sides during World War II continue to be discovered and still present dangers. It has been estimated there are 250,000 unexploded bombs in Germany alone, many dropped by the RAF.
Eleven members of Germany's bomb disposal teams have died attempting to defuse bombs since 2000.