Shares in Fiat Chrysler Automobile fell by as much as 18% on 12 January, after it was accused by US environmental regulators of cheating diesel emissions tests.
The US Environmental Protection Agency said in a statement that approximately 104,000 vehicles produced by Fiat Chrysler "may be liable for civil penalties". FCA is accused of fitting its vehicles with software to evade diesel emissions testing.
It is alleged that FCA violated the Clean Air Act by installing and failing to make public "engine management software" in the 3.0-litre diesel engines of the Jeep Grand Cherokee sports utility vehicle, model years 2014, 2015 and 2016, and the Dodge Ram 1500 pickup truck, both sold in the US.
The software is believed to have artificially lowered the amount of nitrogen oxide (NOx) produced by the engines during test conditions, then allowing the engines to produce more than the legal limit when driven normally. The EPA said it was investigating whether the software can be classified as a form of "defeat device", which would be illegal.
"Failing to disclose software that affects emissions in a vehicle's engine is a serious violation of the law, which can result in harmful pollution in the air we breathe," said Cynthia Giles, Assistant Administrator for EPA's Office of Enforcement and Compliance Assurance.
"We continue to investigate the nature and impact of these devices. All automakers must play by the same rules, and we will continue to hold companies accountable that gain an unfair and illegal competitive advantage."
FCA said in a statement it is "disappointed" with the EPA's findings, adding that its engines are "equipped with state-of-the-art emissions control systems hardware".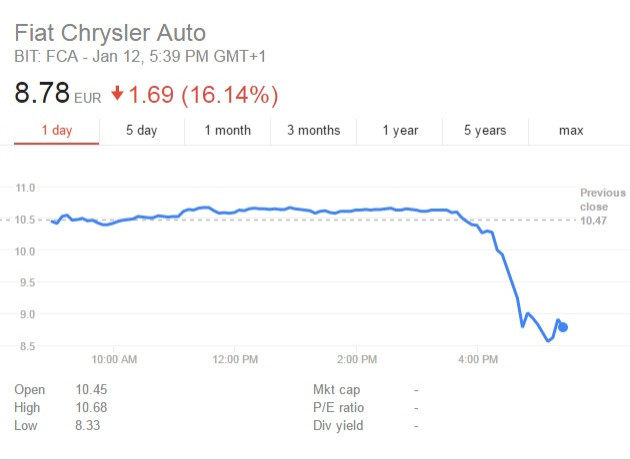 The carmaker added: "FCA US looks forward to the opportunity to meet with the EPA's enforcement division and representatives of the new administration to demonstrate that FCA US's emissions control strategies are properly justified and thus are not 'defeat devices' under applicable regulations and to resolve this matter expeditiously."
The news comes just a day after Volkswagen agreed to pay out $4.3bn (£3.5bn) in criminal and civil fines and plead guilty to misleading regulators. The company was found in late 2015 to have designed a 'cheat device' that lowered diesel emissions while the vehicle was being tested. On the open road, the affected vehicles were found to produce far more nitrogen oxide than allowed by US law.
In the US, where the VW emissions scandal began, the limit is 31mg of nitrogen oxide per kilometre drive; in Europe this is 80mg, making it easier for carmakers to comply with.