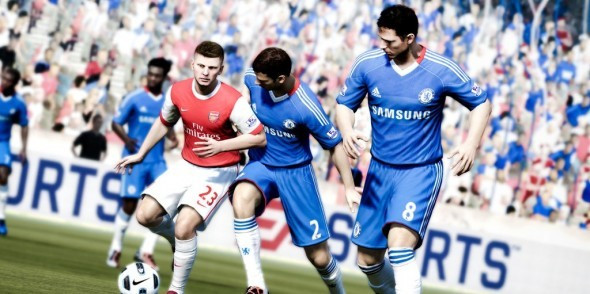 Fifa 12 has come in first and second on the individual formats chart, with the PS3 and the Xbox 360 version finishing above it the individual formats chart.
The football gaming-giant also knocked Gears off the top spot in the multi-format chart with F1 2011 far from pole position in third.
The Xbox 260 version was the biggest seller with sales figures increasing by 27 per cent and 54 per cent of the overall sales. The less popular PS3 version got 44 per cent of other sales, with only an 11 per cent rise.
There was little competition for EA - Fifa 12's creators - however, Ico & Shadow of The Colossus did well, getting to number seven in the multi-format league, one of the highest charting games from the Classic HD series.
UK individual formats chart - 1 October
1 (-) FIFA 12 (360)
2 (-) FIFA 12 (PS3)
3 (1) Gears Of War 3
4 (2) F1 2011 (360)
5 (3) F1 2011 (PS3)
6 (4) Zumba Fitness (Wii)
7 (5) Dead Island (360)
8 (-) Ico & Shadow Of The Colossus - Classics HD (PS3)
9 (-) FIFA 12 (Wii)
10(7) Deus Ex: Human Revolution (360)
UK multi-format charts - 1 October
1 (-) FIFA 12 (PS2/Wii/360/PS3/PC/PSP/3DS)
2 (1) Gears Of War 3 (360)
3 (2) F1 2011 (360/PS3/PC)
4 (4) Zumba Fitness (Wii/360/PS3)
5 (3) Dead Island (360/PS3/PC)
6 (5) Deus Ex: Human Revolution (360/PS3/PC)
7 (-) Ico & Shadow Of The Colossus - Classics HD (PS3)
8 (6) Driver: San Francisco (Wii/360/PS3/PC)
9 (9) Lego Pirates Of The Caribbean (Wii/360/PS3/PC/DS/PSP/3DS)
10(11)Call Of Duty: Black Ops (Wii/360/PS3/PC/DS)