Fifa 17 review: EA Sports' switch to a new engine is about The Journey, not the destination
The change of engine has been well handled, but at the cost of on-pitch progress.
Fifa 17
Platforms: PS4 (tested), Xbox One and PC
Developer: EA Sports
Publisher: EA
Release Date: Out Now
One thing that no one can accuse EA of is standing still. Fifa 17 is the second transitional title in four years. The first, Fifa 14, was developed for a new console generation, and this year's iteration is the first to make use of the Frostbite engine.
The DICE-developed engine that EA seems to be rolling out across most of its licences nowadays was used to develop the largely forgettable Rory McIlroy PGA Tour, but it seems lessons have been learned. Fifa has made a much cleaner transition.
Impressively the transition has been completed without any major differences in how Fifa plays, its presentation and its overall features. There are issues if you look hard enough. Player animations stutter and drop to 30 frames per second at times, AI confusion can lead to players looking like spinning tops when turning and there's a slight input lag when shooting. However, for a brand new engine, within a year of releasing the previous game, it's quite an achievement that the difference isn't that noticeable.
Fifa 17's biggest selling point is The Journey, EA Sports' cinematic story-mode, and it's the mode that has benefited most from Frostbite. There are cut-scenes with motion-captured performances and improved facial animations, set in rendered environments like training grounds, bedrooms, offices and changing rooms.
To say it is reminiscent of the format 2K Games popularised with its NBA titles would be kind. Mechanically it's almost a direct lift of the format. Players must earn social media followers to acquire sponsorship opportunities, and complete training drills to improve attributes and work their way into the manager's good books. There are clear similarities – but it's simplified by virtue of being a brand new mode – and that suits Fifa's broader appeal.
There is a fun rags-to-riches, Goal-style story driving The Journey, and it works. It's well-acted and well-written without relying on the celeb-ridden bombast of its US-based contemporaries. It also works as an incredibly entertaining tutorial at times, making it a great way to get to grips with Fifa if you haven't played before, or in some time.
The Journey is about Alex Hunter's progression from youth trial candidate to superstar, and is very much about the individually. This has an impact when you play as a team rather than as Hunter individually. The focus is always on Hunter; so much so that the AI doesn't really know how to handle it. You'll be played in many positions throughout your career (all in the attacking end of the pitch for added drama), and the AI's handling of how to get the ball to Hunter at all costs is a little clumsy.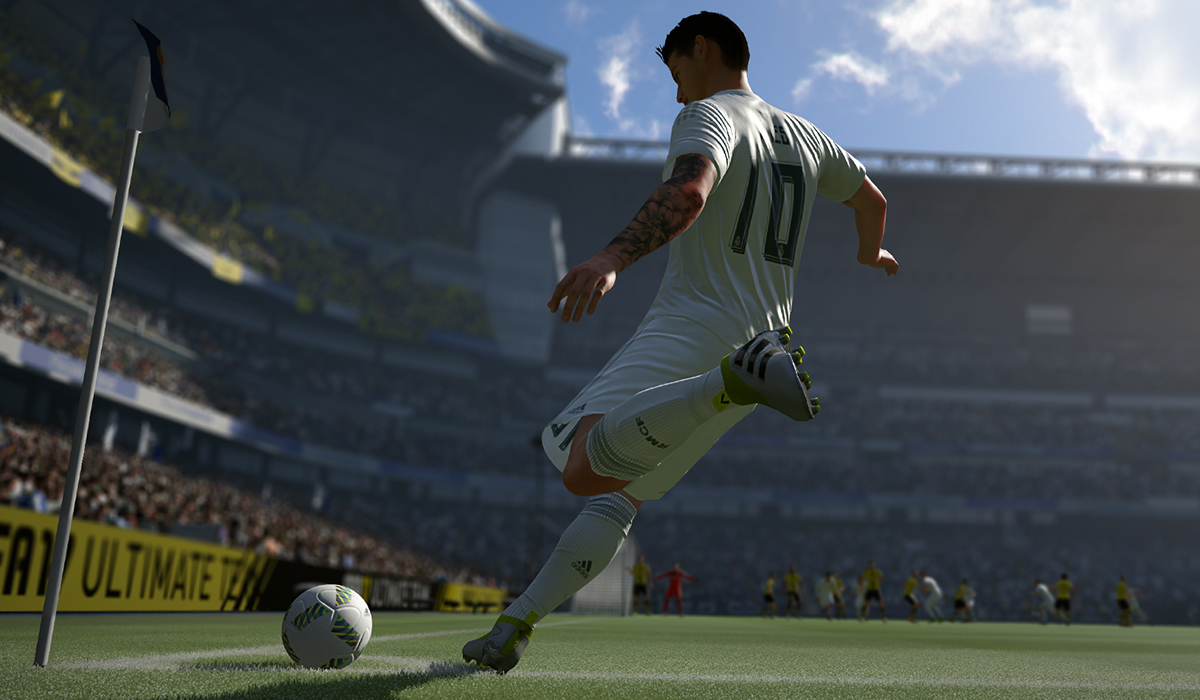 When you're playing a team game, such focus on the individual isn't always the right move. It often feels like Hunter is forced into the game, making passing, flowing football quite difficult to achieve.
All football games live or die on the strength of their base, footballing gameplay, and all the bells of whistles that accompany new releases can't change that.
This year, for every improvement that's been made there's also something negating it. Goalkeepers are further improved, their shot-stopping more natural and their set-piece motion much more realistic, but there are also clipping issues with the posts and net, and calamitous own goals where a last minute scoop off the line hits the keeper's own knee and goes in. Tussling with an opponent at speed doesn't have the feel of a real, physical jostle; it's more like running in front of them, then tripping over. As good as the players look now thanks to Frostbite, the players still seem to be a step behind your inputs, making speedy snapshots and fast breaks a bit of pain to execute.
Fifa's Ultimate Team (FUT) and player or managerial career modes all return with bonus kits and balls, XP boosts and Ultimate Team buffs. FUT has new online components enhancing the online eSports style play with tournaments and regular competitions, incentivising those who previously considered it a bit inaccessible. Extra security built in to FUT is also a welcome sign that EA knows customer security is paramount.
For all these minor changes, however, it's only The Journey that offers a new way to indulge in the ultimate football fantasy. Fifa has up to date players, licences and player looks, but it hasn't leapt forward as much as many would have hoped with the change in engine.
Women's football is back after debuting in Fifa 16, but in a more muted fashion. The women's game is hidden away at the end of the team selection screen in the quick match menus, and it deserves better. There are still no domestic women's competitions either, a likely consequence of the developers focusing on the switch to Frostbite.
The Journey is a great showcase for all the new Frostbite engine brings to Fifa, but the move hasn't exactly rocked the boat. Beyond the fancy, and compelling new career mode, Fifa appears to have maintained its form at a time its competitors are running away in terms of quality.
What the game lacks in finesse and gameplay, it makes up for with deep game modes and a graphical update to rival competing engines. Fifa 17 is neither a departure, nor a revelation, but a safe entry in a transitional year.
For all the latest video game news follow us on Twitter @IBTGamesUK