Fifa 17 preview: Hands-on with story mode The Journey and new gameplay tweaks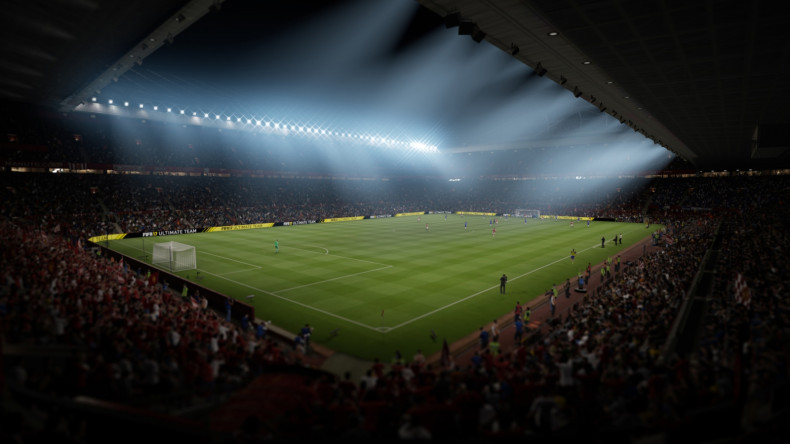 If you've played a Fifa game in recent years there are certain phrases you'll be familiar with. Tehse include "That's not who I wanted to pass to", "What the hell was that?" and assorted groans and cries of frustration laden with enough swearing to make Malcolm Tucker blush. For years, EA Sports' Fifa series hasn't been able to reflect the desires and intentions of those playing it accurately. A new engine is exactly what was needed. Fifa 17 has that in Frostbite, but at a preview event held in London in May those frustrated cries were will still plentiful.
Last year's Fifa 16 felt like a game bogged down by the iterative nature of developing an annualised series. It felt stodgy and slow, like playing a game of football on a pitch coated in treacle, and it seemed unresponsive to the commands of players. Fifa 16's shortcomings are relative of course. EA always produces a good game; the debate is about just how good it is.
Last year's outing fell to the lower end of the recent spate of releases, and a large part of that was down to Konami's Pro Evolution Soccer series – which released one of the finest football games ever. PES 2016 exposed Fifa 16, highlighting its faults. Where PES felt free and precise, playing Fifa felt like a battle against both your in-game opponents and the game itself.
Fifa 17 arrives with the visual upgrades you'd expect. There's an improved lighting system, three times the new animations EA Sports usually adds and improved player likenesses. Physical play has been overhauled and teammate AI is smarter than ever. Teammates now make the kinds of runs they never previously made, giving players more opportunities to break down stubborn defences.
There are increased options for passes and shots, goalkeepers can now create more chances with a greater array of throws and kicks and set pieces have completely revamped. Corners and free-kicks into the box now require the player to aim the ball with a reticle in the box before charging their kick, and players can move their in-game player around the ball before striking free kicks and penalties, opening up new possibilities.
These are all good additions to Fifa, but they are not the improvements that were needed. Control of the ball is still frustrating, and passing is as inaccurate and infuriating as in recent years. Quick passing is a crapshoot, with the direction of the analogue stick or the length of time you hold down pass seeming to have little influence on the outcome. Some passes are tepid, rolling forward a few yards before being picked up by an opponent, while other passes shoot well beyond any teammate and out for a throw-in.
Of course, Fifa 17's biggest talking point has nothing to do with the core game, but the new single-player story mode. Called The Journey, this RPG-like career mode casts players as Alex Hunter – an up-and-coming English footballer. The mode – which can be played with control of the entire team or just Hunter – starts with you playing for scouts, which helps the game automatically set the difficulty level and determines the contracts you're offered from a host of Premier League clubs.
Producer Aaron McHardy was keeping tight-lipped about the longevity and end goal of the mode (which will focus on Hunter and the Premier League in all territories) but it will focus on on-the-pitch glories and failures and the off-the-pitch ramifications of each. Our demo designated Hunter a Manchester United player, making his Premier League debut from the bench against United's rivals Liverpool.
A montage sets the stage, with the match levelled at 1-1 before manager Jose Mourinho (manager likenesses are in for the first time) beckons Hunter to warm up. As he jogs up and down the touchline the crowd chants "Who are ya!?" Who are ya?!" before the assistant manager has a chat with him. The dialogue options are a little trite, but will influence your relationships with the manager and your teammates.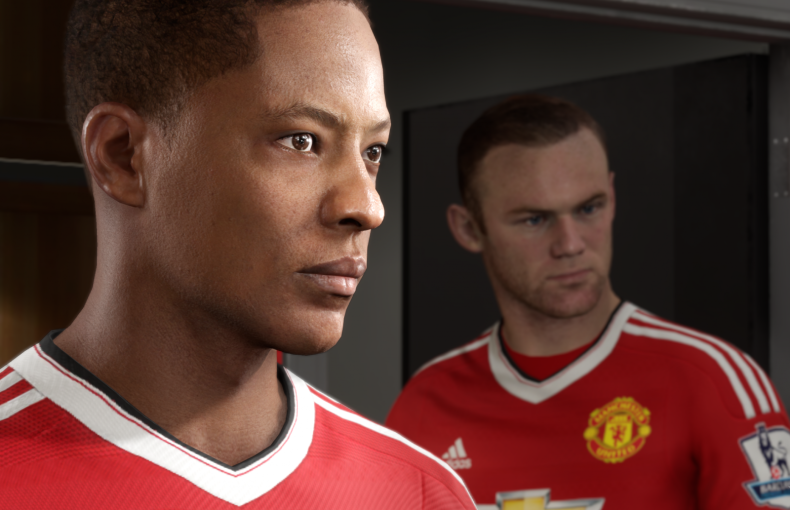 Before coming on, the player is shown their objectives for the match, which task them with playing to a certain level, winning and either scoring or creating a goal. Failure of completion of the objectives isn't paramount (though there will apparently be fail states in the mode) but will influence how the game progresses. An on-screen icon in the upper right also let's players know how they're doing. How the player performs also has a small bearing on the post-match interview, which the player can answer with responses you wouldn't exactly expect of a Premier League footballer (they're more like WWE promos).
Hunter could quickly become a regular first team player – like England and United star Marcus Rashford – or dwindle and be sent out on loan to get more experience. It's after the latter happens that we see a later cutscene set in Hunter's childhood bedroom, in which he's being a bit glum after seeing Harry Kane has signed for his club on the news – complete with uber-charismatic dynamo Kane delivering recorded dialogue – before his grandfather gives him a pep talk.
It's melodramatic and utterly mad, but so is football sometimes. The Journey could very well work, even if it takes itself too seriously. At the very least it's an interesting new concept for the football game, and I look forward to giving it a proper go to see just what story it hopes to tell.
The Journey is a major talking point, but it shouldn't completely mask the faults still seemingly present at the game's core, faults that will likely prevent Fifa 17 from bridging the gap in quality on a base level between this series and PES.