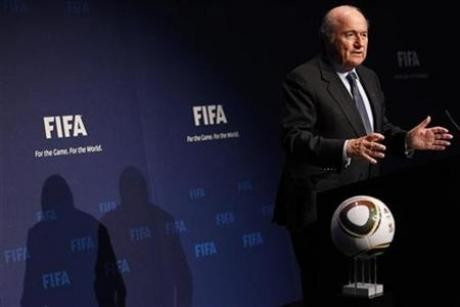 The English Football Association is abstaining from the vote for FIFA president because of recent issues surrounding the international governing body for football.
The issues includ England's failed bid for the World Cup in 2018, which was won instead by Russia.
David Bernstein, the FA chairman released a statement saying: "There are a well-reported range of issues both recent and current which, in the view of The FA board, make it difficult to support either candidate."
This isn't the first time that FIFA has come under scrutiny for the way that the global organisation is run. This article looks at a history of accusations.
In 2006 a book written by Andrew Jennings caused controversy for FIFA after alleging cash-for-contracts and vote-rigging in Sepp Blatter's continued presidency of the organisation.
A BBC Panorama television programme acted as a platform for Mel Brennan, former Head of Special Projects at the Confederation of North, Central American and Caribbean Association Football to speak about allegations of greed and corruption. Brennan worked with FIFA when at CONCACAF and is critical of both organisations.
In a later Panorama investigation Jennings alleged that three FIFA officials had been bribed by ISL, a marketing partner of FIFA between 1989 and 1999 and that FIFA had failed to investigate the claim. There were suspicions that bribery was involved in ISL's successive marketing contracts for the World Cup.
And now allegations of Russian gifts given to FIFA are part of the reason for the FA's grievances and refusal to vote in the recent presidential elections.
Blatter himself is not free from criticism as the head of the global football organisation. He angered female footballers and became a figure of ridicule after saying that female footballers, to attract more male viewers, should "wear tighter shorts and low cut shirts... to create a more female aesthetic".
He has also declined from introducing the widely demanded goal-line technology in football, where similar technology has been shown to be of huge benefit to tennis, rugby and cricket. Had technology been present in World Cup 2010 qualifiers, Ireland might have qualified ahead of France, where Thierry Henry was clearly shown to be cheating by handling the ball before a goal was scored. Blatter laughed publicly when the Irish FA suggested that Ireland could be allowed into the World Cup as a 33rd entrant because of this.